PEOPLES, the largest independent dealership in Europe retailing only Ford cars and commercial vehicles, has revealed a record-breaking financial year and sales performance.
For the fifth year in a row, the group, chaired by leading Scottish entrepreneur Brian Gilda, reported record profits, turnover and year-on-year sales.
The company's annual report published today shows pre-tax profits for the year ended July 31 of £7.05million on turnover that grew £23.9m to more than £260.6m.

Gilda said the financial performance, the best in the company's 33-year history, had been achieved 'in the face of fierce competition' and because of a 'laser-like focus' by the company's senior management team on maximising opportunities throughout the financial year.
He added: 'The outstanding loyalty of our customers is what makes these results special.'
Looking forward, he warned that continued success for Peoples meant 'not taking our foot off the gas' as it dealt with market conditions, the political and economic situation and the implications of Brexit.
Gilda said: 'In my 33 years as CEO of Peoples, I thought I had witnessed every combination of recession, financial turbulence and government incompetence to last a lifetime.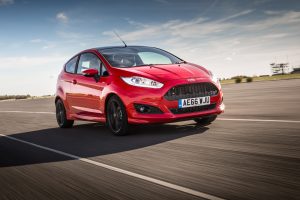 'The combination of government actions north and south of the border along with the unknown implications of Brexit could lead to a slowing of consumer confidence with the likely collateral damage on results.
'We will, of course, continue to review all revenue and cost items to ensure that we are as fit as we can be to best tackle the marketplace.'
Sales across Peoples group, which comprises four dealerships in the north-west of England and three in Scotland, totalled 18,354 vehicles, a year-on-year rise of five per cent.
The best-selling car was the Ford Fiesta and best-selling commercial vehicle, the Ford Transit.
Brian said: 'Leading-edge products like Focus RS, Transit, Mustang and Ecosport are a benefit to have and a joy to sell, along with the other market-leading products we have in virtually every other sector we compete in.'
Peoples employs 405 people across its dealerships in Scotland and England and the company invests heavily in staff training.
Already a top priority, Gilda has put even more emphasis on customer satisfaction by appointing senior director, Ken Clezy, to run a new customer services division across the company's seven dealerships.
Group strategy and operations director Nicola Gilda said: 'Aftersales are vitally important to the business. We value our customers very highly and we want them to know that. Our customers are outstandingly loyal and we want to keep them happy and satisfied by ensuring we take care of them through providing the best possible service.
'The continued focus with our people is that customers should be left in no doubt as to why they should return to Peoples Ford for all their motoring needs.'
The company's performance was praised by James Farley, Ford's executive vice president and president for Europe, the Middle East and Africa, who said: 'What a year in one of the world's most competitive markets! Congratulations to you and your terrific team.'
MORE: Dealer group makes progress by acquiring Skoda outlet
MORE: Important change to leadership team at Black Horse
MORE: BMW 'can await outcome of Brexit negotiations'
On SuperUnleaded.com: China Dazzles When It Comes To Motoring Punishments