Porsche Centre Mayfair opened its new showroom this week and becomes the first 'Porsche Studio' in the UK.
The new purpose-built 795m-sq site in Mayfair, London, sits adjacent to Piccadilly and is only a short distance away from the original site in Berkley Square, which opened in 2006.
Porsche says the new showroom is the first time one of its dealerships incorporates a 'Porsche Studio' and a Porsche Design store under one roof.

Porsche Mayfair becomes the eleventh Porsche Studio in the world and, says the brand, is an 'important pillar' of its 'future retail strategy'.
The 'future' element includes a basement cafe area, an LED wall and interactive screens allowing customers to configure their ideal Porsche.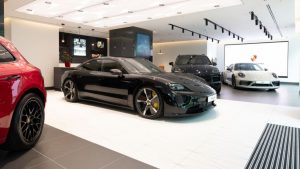 Porsche Retail Group will continue to operate Porsche Centre Mayfair at the new location.
Adam Flint, managing director, Porsche Retail Group, said: 'We're very proud of the new Porsche Centre Mayfair as it represents some significant firsts for our market.

'Realising such a complex project, especially during a year which has presented so many global challenges, is testament to the dedication and hard work of everyone involved.
'Greg Hardy-Smith and his team are all extremely excited about getting settled in and delivering a new level of Porsche experience for our customers, many of whom remember our early days in Berkeley Square.
'We're pleased to say that not only will we be taking all our existing team over to the new site, but they'll be joined by new positions created by our expanded operation, such as the Porsche Design store.'