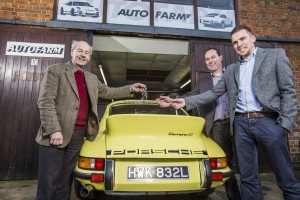 PORSCHE specialist Autofarm has changed hands, with owner of 40-years Josh Sadler handing over the keys to the management team Mikey Wastie and Steve Wood.
The deal will see Sadler continuing to work at Autofarm as heritage director, drawing upon his almost unparalleled knowledge of Porsche cars and managing the Sales and Heritage side of the business.
Mikey Wastie, who has worked at Autofarm for over 15 years, will oversee the growing Engines, Projects and Restoration division while long time supplier and former Carrera Cup racer Steve Wood will manage the Service and Storage. They plan to continue to lead the company's ongoing expansion, but say they wont lose the character and personal touch Autofarm customers are used to.

Sadler said: 'We have been working on making this a seamless transition for staff and customers for some months and I am delighted Mikey and Steve engender the true passion needed for the Porsche marque and our customers. Stepping away from the day-to-day running will enable me to focus more on our car sales and Classic and Heritage side.
'As 911 values have risen, provenance has become increasingly important and investors are seeking perfect, correct specification cars. It's an area where with Autofarm's expertise and history, we can really help customers.'
The transition has been taking place over the past six months with the trio working closely to ensure no vital knowledge is lost.
Mikey Wastie added: 'It is an immense privilege to now own and manage this company. Steve and I have been involved with Autofarm for a combined 25 years so we understand and appreciate what we now have! Josh still being part of the business is a huge benefit as we take Autofarm forward."