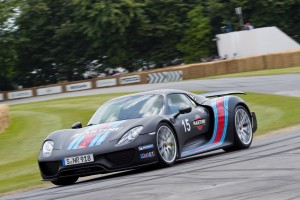 FOR the first time, Porsche has spilt the beans about the availability of its 918 Spyder, its plug-in hybrid supercar.
It is producing only 918 of the superbeasts, with a price tag that starts at about 770,000 euros – that's about £615,000.
And the bad news for potential buyers is that they've all been snapped up.

Bernhard Maier, a member of Porsche's executive board in sales and marketing, says there won't be enough to go round and that even some people who have expressed an interest won't get one.
The final vehicles will roar out of the factory in Stuttgart-Zuffenhausen next summer, precision-built by hand by about 100 staff. Assembling each car takes about 100 hours.
Maier says the highest demand for the car has come North America, followed by Germany, the Middle East, China and then Great Britain.
He says: 'We are close to the finishing line of having sold all 918 units.

'We are certainly now not going to be able to supply a car to every prospect currently talking to us.'
And he hinted hybrid versions were probably going to be the way ahead for Porsche.
'The plug-in hybrid is the correct answer to future challenges,' he said.
'However, we will make individual decisions about each model range at the appropriate time.'