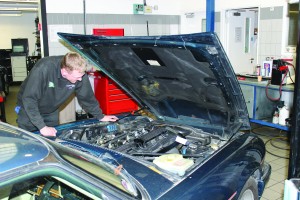 THE RAC is launching a price comparison website for car servicing.
It will be contacting more than 10,000 garages asking them to join the new site, which will rank car servicing, repairs and MOTs.
The website – RAC Garage Compare.co.uk – is the result of a partnership between the RAC and The Motorists Organisation, the company behind TootCompare.

It will, says the RAC, 'provide motorists with absolute transparency when they compare prices and service standards from independent and franchised garages all around the UK.'
Users will enter their postcode and registration number, plus details for the kind of services they require, and then book online. They will be encouraged to rate the garage after use.
The new site will provide a free listing for garages and access to a potentially entirely new pool of local customers. It also offers, of course, the chance to build a strong reputation through customer ratings.
Phil Ryan, RAC's technical director, said: 'The launch of RAC Garage Compare will allow our eight million members and any other motorists to benefit from increased transparency in the MoT and servicing market place.

'We have chosen to work with The Motorists Organisation because we were impressed with their existing TootCompare comparison technology and their commitment to absolute transparency for customers when it comes to pricing and service standards.'
Douglas Rotberg, CEO of The Motorists Organisation, said: 'Our data shows customers very rarely opt for the cheapest price and are instead usually looking to book a service or MoT as quickly as possible, while also mindful of factors such as garage rating and customer feedback.
'We are contacting more than 10,000 garages to invite them to join RAC Garage Compare. There is a definite "no work, no fee" rule with just a small commission charge for each booking.'