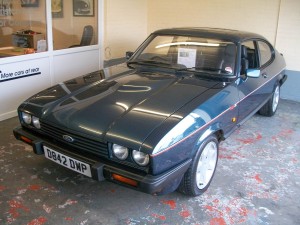 LOOK at those bucket seats, look at that steering wheel, look at the slab-fronted dash, then look at that bonnet! This could only be from one era – those wonderful Eighties.
There have been murmurings recently that Ford may be considering a replacement for the Capri. Now that the Blue Oval is back on best form, producing some great-handling cars again, it could prove to be a wise move.
Let's just hope it puts the memory of the Cougar and Probe well and truly behind us, though.

In the meantime, here at Real Deals we've uncovered a bit of a gem being sold by Christchurch Motor Company in Dorset. This isn't the firm's normal fare, but sitting among the Golfs and Kas is this very rare 1987-registered Ford Capri Brooklands.
The last-run limited-edition Brooklands was based on the already stonking 2.8i and featured a limited slip differential, full leather Recaro interior and 15-inch versions of the seven-spoke 13-inch wheels fitted to the superseded Capri Injection Special. Ford originally intended to make 500 turbocharged vehicles and name it the Capri 500 but a last-minute change meant a name alteration to Capri 280, with a total of 1,038 being built.
There was no immediate successor to the Capri, as Ford felt there wasn't adequate demand for a car of this type in Europe to justify a direct replacement. Capri sales had been declining since 1980, with hot hatches such as the XR2, XR3 and XR4 becoming popular.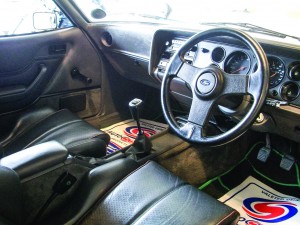 When the last Capri was made on December 19, 1986, more than 1.8 million cars had rolled off the production lines.

Production had ended at Halewood in 1976 and the Capri was made exclusively in Germany from 1976 to 1986. The most popular by sales volume was the Mk I, because it sold well in North America and Australia, while the Mk II and Mk III were only exported outside Europe (to Asia and New Zealand) in limited numbers.
Our particular example was first registered in Jersey and supplied by Falles Garage Ford, then sold to the garage owner's friend, who returned to live in the UK in 1999. He then reluctantly sold it to the third owner in 2000, who has owned it to date. Having covered a shade over 40k, she has a wonderful service history, having been fettled at regular intervals. The condition is fantastic for a 27-year-old car, which has never been restored thanks to the care she's received through her life, helped by the mild Jersey climate.
Christchurch Motor Company describes this as a great investment given their limited numbers and we tend to agree. There are believed to be fewer than 400 of them left.
At £14,950, this seems like an absolute bargain and a great way to relive those days of our youth when we all yearned for one of these but were too young and poor to run one, never mind buy one!
Call Christchurch on 01202 479305 to see if you can do a deal.
If a Capri was good enough for The Professionals and Minder, it's certainly good enough for us!