A GROOM was surprised with his dream wedding car after Bristol's Renault dealership, City Motors, answered a last-minute plea for help from his best man.
Joe Rees, a lifelong fan of the Renault Twingo, arrived at his nuptials to new wife Catherine in the stylish city car thanks to the St Philips Causeway dealership.
City Motors Bristol stepped in to save the big day after best man Will Davies was let down at the last minute with a Twingo he had arranged to hire. Hearing of his exhaustive search for a replacement car after Will contacted Renault UK for help, City Motors Bristol loaned him a white Twingo Dynamique to chauffeur Joe to his wedding at Caldicot Castle and then take the newlyweds back to their reception in Alveston.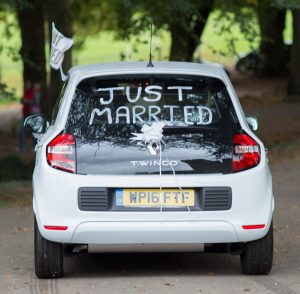 Supplied with white ribbon already in place and 'Congratulations' written down the side, the Twingo came as a complete and very welcome surprise to Joe – especially as he thought he was going by kayak to his wedding!
Will had planted a series of clues suggesting that the duo would be paddling across the River Severn to Caldicot Castle, the ruse being in response to Joe making Will cycle 17 miles on a tandem to his own wedding earlier this year.
Groom Joe, said: 'I felt a massive relief that I wasn't kayaking across the Severn and, thanks to City Motors Bristol and Renault UK, also overwhelmed at being able to go to my wedding in a car I'd been a fan of for so many years.
'The Twingo was a great surprise and even the bride was super happy when she finally saw it at Caldicot Castle.'

Relieved best man Will, added: 'For as long as I've known Joe, he's been mad on the Twingo and I was getting so desperate to find a replacement car that I nearly bought one!
'Without Renault UK and City Motors Bristol it wouldn't have been possible and Joe's face lit up when he saw the Twingo. It helped make the day and there was even plenty of space for Catherine's dress.'
Emma Cook, group marketing manager at City Motors, said: 'We've never had a request like it before, but we were delighted to help make Joe and Catherine's big day even more special.'
MORE: We're creating a common look for both brands, says JLR boss Jeremy Hicks
MORE: Ben Garside: Visiting dealers is always worthwhile
MORE: Big Mike: When the left hand doesn't know what the right hand is doing
On SuperUnleaded.com: Here Are Eight Of The World's Worst Traffic Jams