JAGUAR Land Rover's investment in its dealer network is necessary to bring both manufacturers under one cohesive brand image, says Jeremy Hicks.
The Coventry-based manufacturer is investing £1bn into retail spaces and wants to see 86 per cent of its dealerships renovated by 2020.
'We're really focusing on building both the Jaguar and the Land Rover brands,' Hicks told Car Dealer at the Paris Motor Show recently.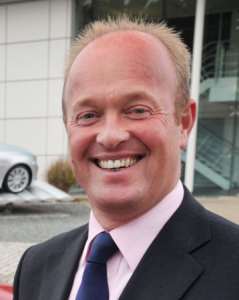 'We are launching a stream of great new cars and it's absolutely right that the showroom environment works with the products and the brand.
'If you look at the traditional Jaguar and the typical Land Rover dealer, they look completely different. There is no family feel in the architecture, so we've had to and wanted to create a common look and feel for both brands.'
He said that one of the main inspirations for the new-look dealerships came from outside of the automotive world.
'People talk about what Apple did on the high street. How they refocused on excellent products, beautifully packaged and sold from exceptionally good, brand-dedicated stores. And in the automotive world it's no different.'

But it's not just about changing what customers see when they turn up, it's about rethinking the whole car shopping experience.
With that in mind, Hicks says he is encouraging the use of non-commission-based salaries for sales staff, as reported previously by Car Dealer.
He says it's better for everyone, giving employees more security and relieving customers from feeling pressured into a purchase. Hicks said: 'I want us to employ in our network people who do the job because they're passionate about doing the right thing all the time.
'We will attract a far higher quality of people to come and have a career looking after customers.'
MORE: Big Mike: When the left hand doesn't know what the right hand is doing
MORE: Issue 104 ready to be downloaded to your iPad
MORE: Yeomans buys fourth Nissan dealership on the south coast
On SuperUnleaded.com: Here Are The World's Worst Traffic Jams