THE latest edition of Car Dealer is ready to be downloaded to your iPad – completely free of charge!
Our reporters ventured across the Channel a week or two ago to visit the Paris Motor Show. They chose their favourite cars and interviewed the bosses of some of the UK's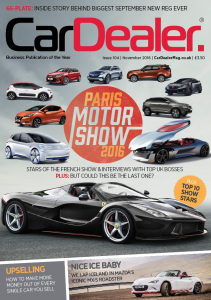 most popular manufacturers to bring you 19 pages of brilliant coverage – and exclusively for the iPad edition, a video round-up of the event.
Find out which models we thought were the stars of the show and read the thoughts of manufacturer chiefs such as Jeremy Hicks of JLR, James Wright of Nissan and Linda Jackson of Citroen.

We also travelled to Iceland recently to drive around the country in a Mazda MX-5 Icon edition – and discovered that although the car isn't that popular there, it's surprisingly well-suited to the treacherous conditions.
And we focus on the world of upselling to help you make more money out of every car you sell.
With contributions from our regular columnists such as Big Mike, James Litton and Ben Garside – not to mention the usual dose of invaluable legal advice from our friends at Lawgistics – issue 104 is not to be missed.

MORE: Auto Trader set to strengthen its new car proposition
MORE: Ben Garside: Visiting dealers is always worthwhile
MORE: Yeomans buys fourth Nissan dealership on the south coast
On SuperUnleaded.com: Here Are The Celebrities Brits Would Most Like To Buy A Car From