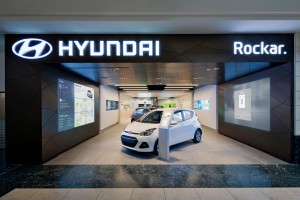 HYUNDAI'S 'revolutionary' new way of selling cars, with the digital car retailer 'Rockar Hyundai'  in Kent's Bluewater Shopping Centre, has been hailed a huge success.
This week it will celebrate the 100,000th visitor to its flagship store after opening its doors six months ago.
Because of its unique location, Rockar Hyundai's store can have more visitors on a single Saturday than many traditional dealerships would expect to see in a whole year. The www.rockar.com website has also received 78,000 visitors since it was launched in November 2014.

Rockar Hyundai allows customers to choose to complete the entire process online or in store. Rockar allows them to research, test-drive, sell their old car and purchase a new Hyundai at the touch of a button. Rockar's pricing policy is transparent and appeals to people who don't want to negotiate for the best deal, and the entire buying process can be completed in less than five minutes.
For those customers who want advice before they purchase, Rockar Hyundai's in-store team of 'Angels' are there to help. These are not salespeople on commission, they are product experts there to advise and lend a helping hand, should customers need one.
Tony Whitehorn, president and CEO of Hyundai Motor UK, said: 'We are delighted Rockar Hyundai has experienced such a successful start. It's raising brand awareness and importantly interrupting people who are not shopping at Bluewater with the intention of buying a new car.'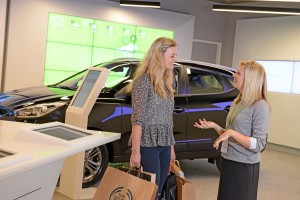 Simon Dixon, CEO and founder of Rockar, said: 'Rockar is challenging every preconception about how buying and selling a car should be. The average age of a new car buyer is 56 years, but the average age of a Rockar customer is just 37.

'What's also interesting is that on average 60 per cent of buyers, and 54 per cent of visitors to the Bluewater store, are female – Rockar's key demographic. The brand conversion rate is impressive too, as 95 per cent of our customers have never owned a Hyundai before. When looking at the success of Rockar so far, it is clear that challenging the historical approach to car buying is the way forward."
Customers can book a test drive or take a spin there and then, as a section of Bluewater's car park is reserved for Rockar's YouDrive service where customers can drive the car alone if they wish. The customers who book multiple test drives are twice as likely to make a purchase. Approximately one third of test drives convert to purchase decisions.
MORE: Bluesky Interactive picks up another award
MORE: Dealership raises cash for hospice
MORE: Come to #CDX15 and win VIP tickets to this year's Silverstone Grand Prix!
MORE: Get your FREE tickets to the event
On superunleaded.com – We're Giving Away The Most Disgusting Peugeot The World Has Ever Seen