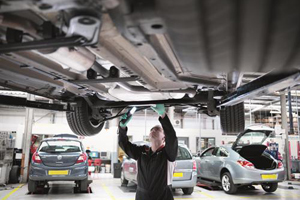 CAR buyers are 25 per cent more likely to purchase the same brand from the same dealer if their service plan matches their finance or PCP term.
New research from Motoring.co.uk shows customer interest in using their local franchised dealership for service plans has increased over the past 12 months.
Manufacturers and their dealer partners creating awareness of the benefits of using the franchised dealer for MOTs and servicing has been the main motivator behind this. But if customers are purchasing a car or picking their car up after a service or MOT they are 40 per cent more likely to purchase a service plan agreement.

Last year 24.8 per cent of motorists had their car serviced at their local franchised garage, matching 2012. This was the first year since 2005 that hasn't seen this figure fall.
Chris Green, sales director of Motoring.co.uk explained: 'We are seeing an upward trend in consumers looking to use franchised dealers for servicing and MOTs. There is much better consumer awareness of what service plans can offer and an increase in uptake of service plans, as they offer a monthly payment plan to spread the cost.
'The recent move by Audi to launch a new fixed price servicing package for older cars to align pricing structures with independent repairers is great for consumers. The Audi Service plan is aimed at retaining out of warranty cars aged between three and five years, which are being lost to independent outlets and should most definitely help with their current 40% retention rate which currently sits 20% below BMW and Mercedes.'