SKODA dropped a couple of clangers with an advert in yesterday's Daily Mail that mistakenly spelled Octavia as 'Ocatvia'.
Not only that but an apostrophe was missing from '3 years AA roadside assistance'.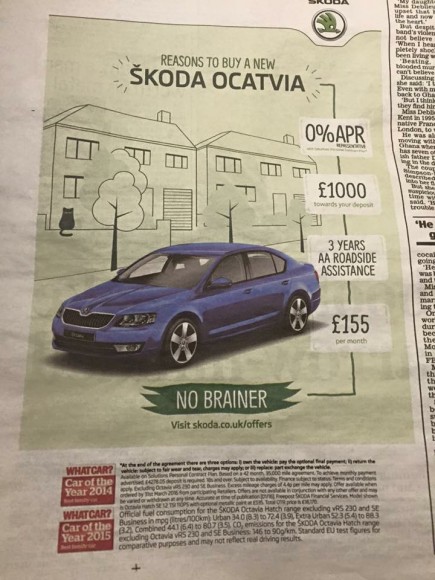 The advert was created to promote the 'reasons to buy a new Skoda Octavia', with enticements also including zero per cent APR representative and £1,000 towards the buyer's deposit.

A finance payment of £155 per month was also listed.
Graeme Lambert, Skoda product affairs manager, told Car Dealer Magazine: 'It is a typo. Skoda is a human brand, run by humans.'
Interestingly, the advert had previously appeared in The Telegraph minus the mistakes a few weeks before this particular one's entry in the Mail.
The advert has been shared numerous times on social media.

The Skoda Octavia has won What Car?'s title for Best Family Car of the Year for two years running, in 2014 and 2015.
MORE: Diesel power surrenders its lead to petrol
MORE: Infiniti to open sales and aftersales centre in Bristol
MORE: It's not all good news for new car registrations
On SuperUnleaded.com: Blokey Blokes Head For Test Drives In L200, Get Rides Of Their Lives In Fantastic Prank