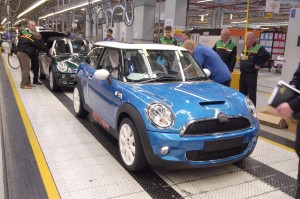 LEVELS of UK car manufacturing were stable in February 2013, according to the SMMT.
Compared with the same time last year, production dropped 0.7 per cent to 137,458 units – though the SMMT points out that February 2012 was subject to a 26 per cent increase on 2011.
Output for cars across the first two months of 2013 grew 0.2 per cent on 2012, the stats suggest, with year-to-date figures reporting 266,507 units.

Figures for commercial vehicles weren't so rosy, however, with production dropping following the weak economic situation of many export countries. Output fell 17.1 per cent to 8,005 units in February 2013, while year-to-date figures fell 18.8 per cent.
Engine manufacturing also fell – down 5.0 per cent last month. Year to date, there was a similar drop of 5.1 per cent.
'Following the outstanding rise a year ago, it's pleasing to see car production continuing to maintain those robust manufacturing levels,' said Mike Baunton, SMMT interim chief executive.
'The UK's commercial vehicle makers continue to feel pressures of weak economic conditions in wider Europe, with engines also following suit. However, independent forecasters expect to see more sustained levels through the rest of the year ahead.'

KPMG's head of auto, John Leech, said he was pleased to see UK manufacturers becoming more resilient to a drop in export volumes.
'Given that vehicle demand in the Eurozone countries has fallen by about 10 percent in recent months the dip of 0.7 percent in UK production last month comes as a relief andunderlines the resilience of UK vehicle producers,' he said.
'This resilience is borne from the fact our car manufacturers such as JLR are increasingly exporting to emerging markets and are selling models in high-growth niche segmentsof the market such as Nissan's Qashqai and Juke.
'The medium term outlook remains bright for UK car production with JLR, Nissan and BMW all expecting to increase UK production in the next few years notwithstanding the expected continued weakness in the Eurozone.
Leech suggested that, for commercial vehicle figures, the future may not be so bright – with a drop in European demand affecting the market considerably.
'The picture is different for commercial vehicles where production fell 17.1pc in February,' he said. 'The weakness in the Eurozone is having a big impact and with the end of Ford Transit production at Southampton scheduled for July 2013 commercial vehicle production figures are likely to remain subdued for a while.'