THERE'S just one month to go until this year's Car Dealer Power Awards, and time is running out to take part in our annual survey.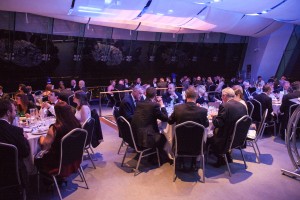 Our simple Q&A enables us to find out EXACTLY what car dealers think of the companies and manufacturers they work with on a daily basis.
But if you want to take part in Car Dealer Power this year, you haven't got much time left! We are only accepting entries up until midnight on Thursday, June 30  – that's this week – so if you want to have your say there's no time to lose.

And if you're one of the many companies with whom dealers do business in the UK, it's time to give your colleagues in the industry a gentle nudge and get them to give you a mention when they fill out the survey form!
For the winning firms, there's no doubt that picking up a gong at our awards ceremony, held each year at Portsmouth's Spinnaker Tower, can give a business a welcome boost. If you want to know how seriously the survey is taken by potential award winners, you only need to chat to companies who have taken home gongs in previous years.
We caught up with Dragon2000, who has triumphed in previous years – and no doubt will be hoping to do so again. Mark Kelland, commercial manager at the dealer management specialists, told us: 'We strive to provide innovative products that meet the needs of the modern motor dealer, and focus on giving exceptional customer support.
'The Car Dealer Power Awards are extra special to us because they are voted for by the dealers themselves, so to win the DMS of the Year award two years in a row is a fantastic achievement that we are immensely proud of – and shows how highly our customers rate our products and customer service.'

Remember, Car Dealer Power aims to discover – and reward – the best manufacturers and suppliers and, although we have a LOT of responses already, we still want more. This way we can be confident that we're rewarding the more deserving companies in the industry. So please click here to fill in our survey.
All completed Car Dealer Power survey forms must be with the Car Dealer team by June 30, and the winners will be revealed at the Spinnaker Tower in Portsmouth on Thursday, July 28.
MORE: Brexit: Glass's and SMMT react to historic vote
MORE: Used car market steadied in June, reports CAP HPI
MORE: New look for County Armagh Nissan dealership
On SuperUnleaded.com: From Supermini To Supercar In A Minute, Car Rig Is A CGI Wonder