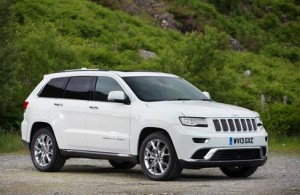 FAMILY-owned dealer group Swansway has added a Jeep franchise to its business.
The American brand will join the Swansway Chester multi-franchise site at Huntington, Chester, where the group already retails Citroen, Fiat and Abarth.
Swansway Chester operations director, Andrew Wakelin, said: 'The opportunity to take on the Jeep franchise was simply too good to miss. Jeep is to 4×4 vehicles, as Hoover is to vacuum cleaners; this iconic brand has a rich heritage, which it has remained true to since its launch in 1941.

'Jeep is less of a brand and more of a way of life; this sits well Swansway, where we are known for our family values of caring, honest and proud and we are most certainly proud to be representing the Jeep franchise in Chester.'
The acquisition of the Jeep franchise brings the number of brands represented by the Swansway Group to 10.
Group director, Peter Smyth, said: 'Our vision for growth has always been a simple one; the right brands, in the right location, with the right people.
'Jeep is a fabulous authentic brand with a great product; Chester is a fabulous city to do business in and with Swansway currently sitting at 32nd in the Sunday Times Great Places to Work list and 13th in Great Places to Work survey, we know our staff are happy and our CSS scores prove that our happy staff are making our customers' happy.

'All the right ingredients for our philosophy for growth.'