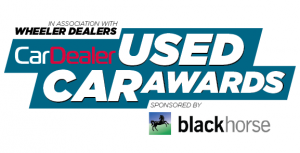 THE Used Car Awards are back – and to find out why you should be involved and how to get nominating, read on.
WHAT IS IT?
The Car Dealer Used Car Awards celebrate every part of the used car industry. For every new car sold in the UK, three others are pre-owned – which explains exactly why these awards are so important. Once again the awards will be hosted by Mike Brewer and once again they'll be hosted at The Brewery – who said Mike couldn't organise a…. (we'll let you fill in the blanks)?
WHERE IS IT?
At The Brewery, Chiswell Street, London on December 2. This amazing venue is large enough to hold all our winners but small enough for the event not to feel too vast – a complaint many people have about other, lesser, industry awards ceremonies. This year the theme for the venue is the '80s. So we expect everyone to arrive in Ferrari Testarossas, in white suits, listening to Wham! Oh, ok, that'll just be us then…

HOW TO ENTER
Wondering how you can go about nominating yourself and – hopefully – a few other dealers who you think deserve a mention? Well, we've made it easier than ever this year – simply click here to bring up the nominations form.
Just fill in the categories you want to online – and we'll do the rest. It couldn't be any easier.
If you're struggling to think of nominations for a specific category, don't worry – you can leave one or two blank. Do get your thinking caps on before you fill it out though – we're counting on YOU to nominate the dealers that really deserve recognition.
Shortlists for each category will be drawn up by our panel of judges – which will be chaired by Brewer – and the winner and two highly commended winners will be invited to our gala awards night. And if last year is anything to go by, winners and highly commended winners will be going home with a very special award indeed.

WHAT HAPPENS?
Oh, you mean apart from the drinking? Mr Brewer does his stuff on the stage handing out our prestigious Used Car Awards to the assembled great and good of the car dealer world; a tasty three-course silver service meal is served; there's a live band, a disco – and lots and lots of opportunities for networking.
The Used Car Awards will be a great place to chat to like-minded dealers and for suppliers to meet some of the most powerful names in the motor trade. Think of it as a great networking event, but with booze!
HOW DO I GET A TICKET?
Simply click here to go to our online registration form
HOW CAN I BOOK A TABLE?
Anyone can book a table at the Used Car Awards. Sponsors get tables as part of their packages, but there's nothing to stop other suppliers to the industry taking a table to entertain clients. Car manufacturers and dealers can come along too – bring your staff, your customers, anyone you'd like to wine and dine during the festive season. They are sure to have a ball.
All tables get unlimited beer and wine from the party opening at 6.30pm with a welcome drink, to the end when you force just one more beer down before we politely ask you to find your carriage at 12.30am.
To book, simply contact the Car Dealer team on (023) 9252 2434.
We are taking bookings now.
HOW TO SPONSOR
There are a number of sponsorship packages available – from headline sponsor to individual sponsorship of awards. Click the digital brochure below to find out more about sponsoring the awards. You can drop us an email or call the Car Dealer team (023) 9252 2434. Sponsorship places are filling up fast so get in contact.
Used Car Dealership of the Year – Under 50 Cars
Used Car Dealership of the Year – 51-100 Cars
Used Car Dealership of the Year – Over 100 Cars
Used Car Dealership Group of the Year
Manufacturer Used Car Scheme of the Year
Manufacturer Used Car Marketing Scheme of the Year – NEW
Used Car of the Year
Best Performing Used Car of the Year
Best New Used Car Dealer of the Year – NEW
Used Car Finance Product of the Year – NEW
Dealer's Dealer of the Year Award – NEW
Used Car Sales Team of the Year
Used Car Sales Manager of the Year
Used Car Dealer Principal of the Year – NEW
Upsales & F&I Performance of the Year
Best Used Car Customer Care
Used Car Website of the Year
Best Dealer Used Car
Marketing Scheme of the Year
Used Car Product of the Year – NEW
Outstanding Achievement of the Year
Lifetime Achievement Award