Reunion showed GT is a bit of a head-turner
IT was a trip to my local filling station that made me realise that the Kia Procee'd GT we currently have on the fleet is a VERY good-looking car. A real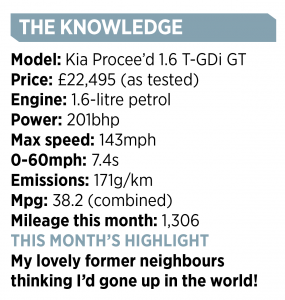 head-turner in fact. The reason?
Well, this particular fill-up trip turned into a bit of a reunion involving me and some former neighbours of mine.

And as we caught up with each other's news – and annoyed the waiting people in the queue behind us at our local Sainsbury's – the conversation turned to LG64 MPF.
It was a Sunday and the car was looking spotless in accordance with the Car Dealer rules that all vehicles must (a) be clean and (b) be full of fuel every Monday morning. And as our pretty little Kia sat there glinting in the sun, I checked her out myself and saw her with fresh eyes.
My former neighbours (hello Ollie, Maureen and Simon) all thought the car looked stunning and I couldn't help but agree.
The distinctive quad LED lights, honeycomb grille and the dash of red along the front splitter really make the car stand out.

It's a Kia with a dose of added swagger and style and we love it.