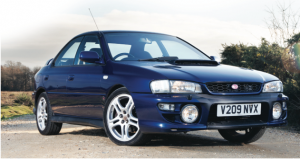 WE started with £2,000 at the start of the year and through our contacts we are trying to trade up, via profits on cars sold, to a supercar, with the funds going to Great Ormond Street Hospital.
Following my request last month we've had a few bits of metal offered our way – thanks very much for that, and please keep them coming. As a result, this month has been all about buying rather than selling. My good friend Dan Dulieu dropped me a line and said that because of a new addition to the family he was having to offload his Subaru Impreza and get something a bit more sensible.
I had a look at the car, and after a brief bit of negotiating we now have a 1999 Impreza for less than £1,500! Although needing a little cosmetic work, this is a rare UK car and has a fantastic service history, serviced every 7,500 miles at a main dealer or specialist, and she's just had all her belts and bits done!

Outwardly, she is pretty much standard. Being a very late Mk1 she has the full STI styling and, unusually, no rot on the rear arches. She's had a bit of life breathed into her. comprising an upgraded Prodrive intercooler and a dustbin for an exhaust. Now, given that at Car Dealer Magazine we have all sorts of very nice metal coming through for review, I haven't seen a car get as much attention as this.
When I turned up, there was a queue waiting to take her for lunch… Anyway, Baggott muttered something about doing a twin test with the new WRX, promising to return the keys soon…
Now on to the bad news.
Living in the countryside, having an old 4×4 is no bad thing, so after writing last month's Buyers' Guide I decided a Disco Mk2 would be perfect for our needs. I picked up a very nice one-owner 2002 TD5, top spec, right colour, good miles, and followed my advice to the T… that is, until we decided to do an oil change and 12 litres of very thin oil came out – I had a cracked cylinder head.

Luckily, while pulling together the Buyers' Guide, the name Turner Engineering in Lingfield came up in more than one forum.
These guys can supply an aftermarket replacement head upgraded from the original, which addresses the issues with cracked injector towers.
They were good enough to let me have one at trade price, and although this is no cheap fix (we're well into four figures with labour), my view is this addresses the car's big weakness and should give us years of good service, even though many people would think a 2002 TD5 is no more than scrap when this happens.
Hopefully next month I'll have some news about the Scooby and the Rover, and if I can get them listed for Boxing Day, with any luck it will be a very happy Christmas for Trading Up!