A used car dealership has appealed for help in tracing two Ford Focus STs that were stolen over the weekend using hi-tech scanners to get into the cars and drive off in them.
Formula One Car Supermarket in Glasgow Road, Falkirk, was targeted by thieves, with three STs – together worth some £40,000 – taken overnight between February 20 and 21.
One of the hot hatches was later recovered after getting stuck in mud but two are still missing. The thieves tried to take three other STs as well but failed in their attempt.

General manager Paul Cowan told Car Dealer today (Feb 22) that a lot of information had been gleaned from CCTV footage and they were hopeful that both of them – worth some £25,000 together – could be recovered.
But he added: 'The worrying thing is how easy it is to get these cars away. They used OBD scanners and managed to get the cars started without keys.
'Unfortunately, it's quite a common thing now. Anyone can buy them on the internet for a couple of hundred quid.'
Formula One Car Supermarket, which is one of the biggest independent dealerships in the region, carries a high stock of STs, with some 900 cars on its books at the moment, and it's believed the STs were stolen to order.

'It's a bit of a pain when they get in. We're feeling pretty sore about it and obviously taking steps to make sure nothing like that can happen again,' said Cowan. 'We can only hope that the cars aren't damaged.'
He added: 'By the looks of it, they were taking them to resell them, they weren't just taking them for a joyride, because I think they specifically targeted that model of car – they went past a lot of other expensive cars to get to these ones.
'Whatever scanner they've got is very suited to that model of Ford.'
The Serious Crime Squad was due to visit the dealership again today for more information from the security cameras and it is hoped police will be following up a positive line of inquiry.
Cowan pointed out how easy it was for thieves to pre-program easily obtainable blank fobs to steal cars.
'Regardless of how much security we've got, these cars are very vulnerable.'
The dealership, which now faces insurance premium implications, put out an appeal on Facebook, giving the registration numbers as BT13 WYC and YC13 EAF.
'It's just gutting,' said Cowan. 'Nobody likes to think someone's been in their house. And this is our house.'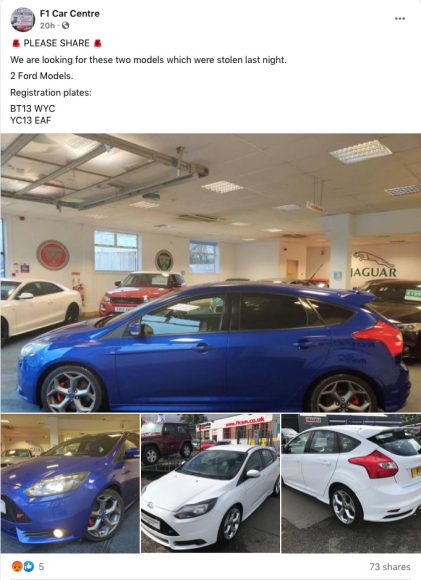 The used car site's gates were ripped open to get the STs through, with vandalism elsewhere as well and other cars damaged as the thieves moved them about.
Anyone with information about the theft should call police on 101.
Main image: Google Street View