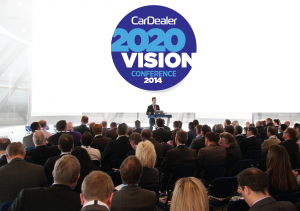 THIS year's Car Dealer Conference – branded 2020 Vision – is to be held at Rockingham Motor Speedway in Corby, Northamptonshire on June 20. 
We have signed up representatives of some of the biggest brands in the UK to give us the benefit of their advice and guidance at the event – and you can book your FREE tickets by clicking here.
Our speakers will be delivering their fascinating predictions of how the automotive industry will evolve and develop in the next six years.

We're confident delegates will go away armed with all the knowledge they need to stay one step ahead of the competition right up to 2020 and beyond.
For more details on the elements of the conference click on the following links:
Along with our six keynote speakers, the Car Dealer Expo will be an important part of the day – and this year it will be the largest of its kind in the UK with more than 40 trade stands.
Rockingham's exhibition hall will be taken over by more than 40 exhibitors, who will be on hand to chat about the products and services dealers need now and in the future. There will be plenty of time for you to visit the suppliers' stands and talk business.

And that's not all! As part of the conference day activities, we are staging two innovative breakout sessions: one for future leaders of the industry and one to celebrate the achievements of the top 100 Twitter users. The list was recently compiled by the Car Dealer team and appears in the Issue 75 of the magazine.
Book your FREE tickets – click HERE
Still not convinced? Well, how about the chance to win an exciting drive around the track at Rockingham with legendary NASCAR racer Russell 'Rusty' Wallace?
And did we mention the whole day is FREE? With a complimentary lunch and all the tea and coffee you can drink?
It all adds up to an unmissable event – and with five weeks to go, it's got the whole industry talking – and tweeting.
Car Dealer editor James Batchelor said: 'We are enormously excited about this year's conference for a whole variety of reasons.
'We have managed to attract a simply stunning line-up of speakers happy to share their expertise and experience in their various fields. I know it's been said before but this is an event that's simply too good to ignore.'
Find out more about the various conference attractions by clicking on the links below – and register for your free tickets by clicking HERE.