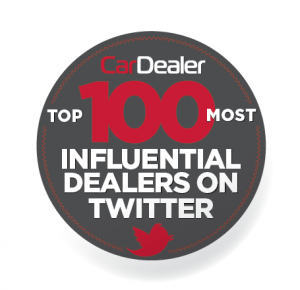 PERRYS has been revealed as the UK's most influential car dealer on Twitter.
The dealer group came out on top in our exclusive poll of the top 100 dealers in the UK while independent trader, Simon Shield Cars, beat many more established names and finished in second place. Mercedes-Benz Retail Group, meanwhile, was ranked third.
This is the second poll of its type carried out by Car Dealer Magazine which rates dealers on their 'influence' on the social media platform, and uses trusted analyst Klout.com to create the top 100 list.

Perrys, previously ranked in second place, topped the list with a Klout score of 66. Digital marketing manager Lee Manning said: 'Twitter is a great way of communicating with our customers, providing great customer service and entertaining our followers with interesting content!
'We combine humour, professionalism and a little "petrol headedness" with a real desire to be "social" within our community.'
Manning added: 'It's not just been about our customers though, we've had a lot of fun using Twitter to showcase the amazing people working within Perrys.'
Simon Shield Cars' performance was particularly impressive, however. With a Klout score of 64, she moved up from seventh and beat some of the UK's largest dealer groups in the process.

'Simon and I are thrilled to be the second most influential car dealer in the UK,' said Caroline Shield. 'Social media is a big part of our marketing strategy and to be recognised for this is tremendous.
'Engagement, brand awareness, building up relationships, having fun and meeting new people has brought Simon Shield Cars Ltd prominence. Thank you Car Dealer Magazine for collating the list.'
New entries included Motorpoint, Peter Cooper Volkwagen, Mike Brewer Motors, Newmarket Motor Company, Audi City London, Autoecosse and HR Owen Aston Martin among others.
Top 100 Most Influential Dealers on Twitter – October 2013
What is Klout?
A Klout score is a number given between one and 100, which takes into consideration a user's interaction on Twitter to work out their overall influence – the higher the number, the more influential the user. For our Top 100, where Klout scores were the same, follower numbers were taken into consideration.
The Top 100 list 
| | | | | |
| --- | --- | --- | --- | --- |
| | Follow | Dealer | Klout | Followers |
| 1 | Follow @perrysmotors | Perrys | 66 | 5,012 |
| 2 | Follow @simonshieldcars | Simon Shield cars | 64 | 3,680 |
| 3 | Follow @MB_Retail | Mercedes-Benz Retail | 64 | 2,519 |
| 4 | Follow @NewmarketCars | Newmarket Motor Co. | 63 | 2,895 |
| 5 | Follow @Imperialcar | Imperial Cars | 62 | 1,733 |
| 6 | Follow @TCHarrisonFord | T.C. Harrison Ford | 62 | 884 |
| 7 | Follow @HarwoodsGroup | Harwoods Group | 61 | 5,436 |
| 8 | Follow @RidgewayGroup | Ridgeway | 61 | 5,336 |
| 9 | Follow @DriveBenfield | Benfield Motor Group | 61 | 5,259 |
| 10 | Follow @EvansHalshawUK | Evans Halshaw | 60 | 7345 |
| 11 | Follow @specialistcars1 | Specialist Cars of Stoke | 57 | 2,747 |
| 12 | Follow @SwannAutomotive | Swann Automotive | 57 | 1,815 |
| 13 | Follow @RabyPorsche | Philip Raby Porsche | 56 | 3,051 |
| 14 | Follow @Sandicliffe | Sandicliffe | 56 | 1,984 |
| 15 | Follow @BristolStMotors | Bristol Street Motors | 55 | 4,437 |
| 16 | Follow @Motorpoint | Motorpoint | 55 | 2,746 |
| 17 | Follow @PorscheRetail | Porsche Retail Group | 55 | 2,353 |
| 18 | Follow @DewsMotorGroup | Dews Motor Group | 54 | 2,301 |
| 19 | Follow @stoneacremotors | Stoneacre Motor Group | 54 | 1,445 |
| 20 | Follow @ArnoldClark | Arnold Clark | 53 | 7,189 |
| 21 | Follow @jimreidvehicle | Jim Reid Vehicle Sales | 53 | 2,464 |
| 22 | Follow @HendyGroup | Hendy Group | 53 | 1,940 |
| 23 | Follow @JohnClarkMotors | John Clark Motors | 52 | 465 |
| 24 | Follow @VertuMotors | Vertu Motors PLC | 50 | 3,673 |
| 25 | Follow @JCT600 | JCT600 | 50 | 3,216 |
| 26 | Follow @WessexGarages | Wessex Garages | 50 | 1,682 |
| 27 | Follow @VantageMotorGrp | Vantage Motor Group | 50 | 852 |
| 28 | Follow @PeterVardy | Peter Vardy | 49 | 3,178 |
| 29 | Follow @CriteriaCars | Criteria Cars | 49 | 957 |
| 30 | Follow @LINGsCARS | LINGsCARS.com | 48 | 4,030 |
| 31 | Follow @MarshallMotorGp | Marshall Motor Group | 48 | 2,869 |
| 32 | Follow @stratstoneuk | Stratstone | 48 | 1,591 |
| 33 | Follow @BowkerBMW | BowkerBMW | 48 | 1,523 |
| 34 | Follow @SturgessCarsLtd | Sturgess Motor Group | 48 | 1,506 |
| 35 | Follow @HyltonMotors | Hylton Motor Group | 47 | 10,500 |
| 36 | Follow @BenfieldSkoda | Benfield Skoda | 47 | 7,436 |
| 37 | Follow @Sytner | Sytner Group | 47 | 1,569 |
| 38 | Follow @AlanDayVW | Alan Day Volkswagen | 47 | 1,203 |
| 39 | Follow @RMBAuto | RMB Automotive | 47 | 1,029 |
| 40 | Follow @PeterCooperVW | Peter Cooper VW | 46 | 2,813 |
| 41 | Follow @RidgewayMerc | Ridgeway Mercedes | 46 | 2,635 |
| 42 | Follow @AstonMartinWork | Aston Martin Works | 46 | 2,028 |
| 43 | Follow @Quirkscarco | Quirks Car Company | 46 | 1,881 |
| 44 | Follow @ictruckandvan | Imperial Commercials | 46 | 1,826 |
| 45 | Follow @westovergroup | Westover Group | 46 | 751 |
| 46 | Follow @LookersGroup | Lookers | 46 | 739 |
| 47 | Follow @ColbornesGroup | The Colbornes Group | 46 | 545 |
| 48 | Follow @Driveingram | Ingram Motor Group | 45 | 4,034 |
| 49 | Follow @DevonshireMotor | Devonshire Motors | 45 | 3,624 |
| 50 | Follow @HR_Owen | HR Owen | 45 | 3,609 |
| 51 | Follow @QuestMotorGroup | Quest Motor Group | 45 | 2,358 |
| 52 | Follow @stanpalmerford | Stan Palmer Ford | 45 | 2,232 |
| 53 | Follow @simonjamescars | Simon James Cars | 45 | 2,052 |
| 54 | Follow @SinclairAudi | Sinclair Audi | 45 | 1,577 |
| 55 | Follow @Autofarm | Autofarm 1973 Ltd | 45 | 1,542 |
| 56 | Follow @KSMotorsSales | KS Motors | 45 | 1,498 |
| 57 | Follow @WestEndMotors | West End Motors | 45 |  1,449 |
| 58 | Follow @Harwell_co_uk | Hartwell plc | 45 | 1,412 |
| 59 | Follow @vindisgroup | Vindis Group | 45 | 1,233 |
| 60 | Follow @johnsonscars | Johnsons Cars | 45 | 1,172 |
| 61 | Follow @dicklovett | Dick Lovett | 45 | 1,126 |
| 62 | Follow @ButlersVehicle | ButlersVehicle | 45 | 965 |
| 63 | Follow @jardinemotorsuk | Jardine Motors Group | 45 | 792 |
| 64 | Follow @ArburyGroup | Arbury Motor Group | 45 | 721 |
| 65 | Follow @BramleyGarage | Bramley Motor Cars | 44 | 2,239 |
| 66 | Follow @HawkinsMG | Hawkins Motor Group | 44 | 2,097 |
| 67 | Follow @PortlandAutos | Portland Autos | 44 | 1,609 |
| 68 | Follow @RRGFleet | RRG Fleet | 44 | 1,538 |
| 69 | Follow @AudiCity_London | Audi City London | 44 | 699 |
| 70 | Follow @Cloberfieldauto | Cloberfieldauto.co.uk | 44 | 463 |
| 71 | Follow @mikebrewermotor | Mike Brewer Motors | 43 | 6,230 |
| 72 | Follow @PhoenixCar | Phoenix Car Company | 43 | 3,703 |
| 73 | Follow @SinclairMerc | Sinclair Mercedes | 43 | 1,956 |
| 74 | Follow @SinclairVW | Sinclair Volkswagen | 43 | 1,852 |
| 75 | Follow @StebbingsCars | Stebbings Cars | 43 | 1,838 |
| 76 | Follow @LookersMercedes | Lookers Mercedes | 43 | 1,592 |
| 77 | Follow @InchcapeUsedCar | Inchcape Used Cars | 43 | 1,579 |
| 78 | Follow @RandDPeugeot | Robins and Day Peugeot | 43 | 1,153 |
| 79 | Follow @Westlondonmotor | West London Motor | 43 | 951 |
| 80 | Follow @AgnewGroup | Agnew Group |  43 | 867 |
| 81 | Follow @VospersMotors | Vospers Motors | 43 | 839 |
| 82 | Follow @ThamesMotor | Thames Motor Group | 43 | 808 |
| 83 | Follow @HALLIWELLJONES | Halliwell Jones BMW | 43 | 683 |
| 84 | Follow @johnbiggar | Chapel Motors | 43 | 353 |
| 85 | Follow @SmithsMotorGrp | Smiths Motor Group | 43 | 352 |
| 86 | Follow @autoecosse | Autoecosse | 43 | 164 |
| 87 | Follow @JamesandJenkins | James & Jenkins Garages | 42 | 5,082 |
| 88 | Follow @JimatPentagon | Pentagon | 42 | 1,687 |
| 89 | Follow @Harratts | Harratts | 42 | 1,628 |
| 90 | Follow @rybrookcars | Rybrook | 42 | 1,593 |
| 91 | Follow @MacklinMotors | Macklin Motors | 42 | 1,532 |
| 92 | Follow @SwainandJones | Swain and Jones | 42 | 1,186 |
| 93 | Follow @LotusUKDealer | Lotus Silverstone | 42 | 1,027 |
| 94 | Follow @Heritage_Autos | Heritage Automotive | 42 | 980 |
| 95 | Follow @swanswaygroup | Swansway Group | 42 | 763 |
| 96 | Follow @grangecarsales | Grange Car Sales | 42 | 510 |
| 97 | Follow @sbpeugeot | Simon Bailes Peugeot | 42 | 484 |
| 98 | Follow @HaywardsMotor | Haywards Motor Group | 41 | 6,754 |
| 99 | Follow @JBarclayBentley | Jack Barclay Bentley | 41 | 2,541 |
| 100 | Follow @HROAstonMartin | HR Owen Aston Martin | 41 | 1,662 |