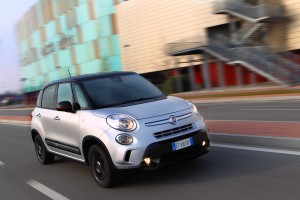 FIAT'S 500L was misunderstood at launch, the  Italian manufacturer's head of brand in the UK has told Car Dealer.
Kate McLaren was speaking as the company announced the launch of a new special edition, new engine variants and new optional equipment for the mini MPV, launched in the UK last year.
Fiat says the new FIAT 500L Beats Edition blends cutting-edge technology with a cool, urban look, 'combining the chunky go-anywhere styling of the 500L Trekking with an eye-catching, two-tone, grey/black colour scheme'.
Asked about the success so far of the 500L, McLaren told Car Dealer: 'I think 500L was misunderstood at launch. Our research shows that it is viewed overwhelmingly as a family vehicle.
'That's not to say it's exclusively for families but what we tend to say is that we aim for a target demographic. 500L is more lifestyle than life stage if that makes sense, in the same way that 500 is more about free thinkers of any age; they could be young or old.
'It's a very different alternative to some of the more traditional family cars. Perhaps there's not the strongest awareness of it yet – hence the communication campaign that we're undertaking which has an umbrella theme of family rules.
'It's all about all the unspoken rules that make family life such good fun.'
McLaren said: '500L is not simply a bigger 500 or a five-door 500L – that's where people may misunderstand it. It's a vehicle in its own right.'