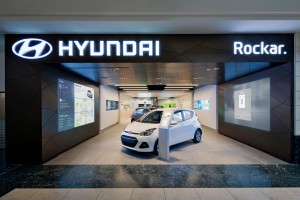 MARKET newbie Rockar Hyundai took home the Digital Store of the Year accolade at the Retail Week Tech & Ecomm Awards 2015.
Hyundai launched its digital store at Bluewater Shopping Centre just six months ago and it has quickly become one of the busiest car outlets in the UK.
It has now also become the first to win an award of this kind.

Rockar Hyundai beat a number of established high street brands to take home the trophy including Thomas Cook, LloydsPharmacy, Pro-Direct Sports and Argos.
Rockar's founder, Simon Dixon, said: 'The way the motoring industry has sold cars and interacted with customers has been unchanged for the last 120 years. Yet retail has moved on vastly, with online and digital becoming staple purchasing methods for 21st Century shoppers.
'We know that our customers appreciate being able to buy a brand new car in such an easy way and this award shows that the retail industry recognises it too.'
Before launching, Rockar Hyundai carried out research which revealed that nearly half (45 per cent) of drivers said they would be more likely to consider replacing their car if buying it was more like shopping for food or clothes, or being in a mall or a supermarket.

Dixon continued: 'Digital isn't just a fad or a trend. It is an essential requirement for any dealership that wants to remain relevant to customers.'
Tony Whitehorn, Hyundai President & CEO said: 'For Rockar Hyundai to be recognised in this way by the retail industry is testament to the clear vision of Rockar's unique business model. Rockar Hyundai challenges the traditional convention and it is clear that today's consumers are embracing the new way to buy a car.'
More: Vertu high-fliers honoured at prestigious awards ceremony
More: Qashqai is hot stuff as Auto Trader publishes its latest top 10s
More: Can CX-3 help Mazda hit record sales figures for 2015?
On SuperUnleaded.com: Chris Evans Will Audition To Find His Top Gear Co-hosts