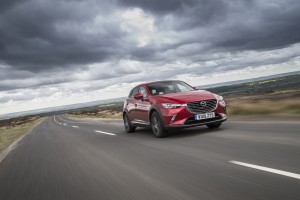 THE all-new Mazda CX-3 goes on sale in the UK tomorrow – and the company is hoping its first small SUV can help it achieve record sales figures for 2015.
The 18-strong CX-3 line-up is priced from £17,595 to £24,695 on the road and comes in five trim levels ranging from SE to Sport Nav.
With a choice of 11 petrol and seven diesel variants, the car comes with pretty generous levels of equipment and a range of valuable safety features such as Hill Hold Assist, a Lane Departure Warning System and Dynamic Stability Control.

A particularly useful feature is the flexible cargo board boot floor, which can be raised to provide a flat load space when the standard 60:40 split-fold rear seats are tumbled. And the car is arguably the best looking B-SUV out there, sharing its segment with a whole host of rivals such as Nissan's Juke and Vauxhall's Mokka.
Mazda's hopes of sales success for CX-3 look fairly well founded. The company's growth has outperformed the industry overall for every year since 2012 – and each year, that growth has come from models that have hit the road at that particular time.
What's more, the eagerly anticipated new version of Mazda's iconic roadster, MX-5, will be arriving in showrooms before the year is out. And to help keep things moving forward, Mazda 2 was crowned Car of the Year at the Car Dealer Power Awards a little earlier this year.
Speaking exclusively to Car Dealer, the company's UK MD, Jeremy Thomson, said 2015 would be a record breaker for the company if more than 51,500 cars were shifted.

He said: 'It would be quite interesting if we did break that record, because when we were last doing 50,000, the company was in a very different position.
'When I think back to 2001, we were selling the original Mazda 6 – the launch Mazda 6 – £1,000 cheaper than a Mondeo. Today's Mazda 6 is priced closer to VW's range with the appropriate level of spec.
'The brand's moved a long way in 15 years.'
Mazda is attracting plenty of drivers from premium brands to the marque.
Thomson added: 'With CX-5, we got twice the inflow from premium brands than we did from any previous model. Sometimes you hit the sweet spot with a new product launch.
'Within the company, we've asked ourselves, what is the magic that made CX-5 the success it was? It's reached a critical mass where we sell every single car we can get – and have done for four years. I'm hopeful that CX-3 does that as well.
'The cars we are seeing already are absolutely bang on and we've had an incredibly rich mix of pre-orders. Eighty per cent so far have been for the top-spec Sport Nav.'
MORE: Renault becomes the first company to enter the UK savings market
MORE: The answer to the lack of EV charging points? Lampposts
MORE: Volvo XC90 has the best interior, say experts
On SuperUnleaded.com: We finally pick a winner for our filthy Peugeot 307