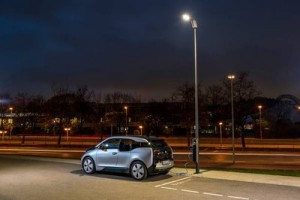 EVERYONE knows that one of the big drawbacks to having an electric vehicle is the lack of charging points. There just aren't that many around, so if you're travelling more than just a handful of miles, you have to plan your journey with military-type precision.
But Mini may have the answer…. street lights and lamp posts.
Their plant in Oxford has been showcasing a high-efficiency street lighting system that doubles as a charging station for electric vehicles (EVs).

Known as Light & Charge and demonstrated for the first time in the UK, this innovative system is the outcome of a pilot project developed by the BMW Group and is a state-of-the-art LED street light that combines energy-efficient lighting with affordable EV charging.
Allowing cities to significantly reduce energy consumption, its integrated charge point also provides a cost-effective and simple solution which can be grafted straight on to the existing local authority street lighting infrastructure, substantially increasing the number of public charging stations.
EV charging stations can be set up at any location where suitable parking is available, simply by replacing conventional street lights with Light & Charge systems.
Frank Bachmann, the managing director of Mini Plant Oxford, said: 'Light & Charge is a simple and innovative solution which aims to integrate a charging station network into the urban landscape and this is essential if we want to see more electric vehicles on the road in our cities in the future.'

Oxfordshire County Council and Oxford City Council are currently working in partnership to increase the uptake of ultra-low emission vehicles such as electric cars as part of their bid for funding from the Office of Low Emission Vehicles, Go Ultra Low City Scheme.
The two local authorities said in a statement: 'Combining energy-efficient street lighting with a re-charging station for electric vehicles is a neat solution to the problems of on-street charging stations.'
With its modular LED design, the Light & Charge street light is more energy-efficient than conventional street lighting and provides more effective illumination.
The EV charging cable connects to a standard connector on the Light & Charge street light and the integrated control panel allows drivers to start charging with the swipe of a card regardless of vehicle model.
MORE: Volvo XC90 has the best interior, say the experts
MORE: Family fun as new £250,000 Mitsubishi showroom opens
MORE: Time Is Money: Why capturing and measuring data is key to online success
MORE: SsangYong launches £1m ad campaign around new Tivoli SUV
On superunleaded.com – Twitter Reacts To Chris Evans Bagging Top Gear Job