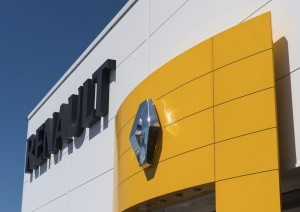 RENAULT has become the only car company to compete in the UK savings market as its financing company RCI Banque has launched a UK savings arm, creatively named RCI Bank.
It enters the market today with an easy access account called the Freedom Savings Account. The account is available exclusively through MoneySuperMarket with a Best Buy rate of 1.5 per cent AER.
The straightforward account has a starting balance of £100, with a maximum balance of £1 million, no penalties, notice periods, tiered rates, gimmicks or small print. RCI Bank plans to launch a suite of additional products later in the year.

CEO of RCI Bank Steve Gowler said: 'We're really excited about entering into the UK savings market, and importantly entering the market with an innovative and competitive product. Saving money should not be difficult, which is why we have developed our simple Freedom Savings Account with a rate of 1.50 per cent.
'We believe we have a product that people will love. Over the next 12 months we plan to follow this up with further product launches.'
He added: 'We also have the added benefit of being part of a global group, working for Renault and Nissan brands, and we are committed to using our strength to deliver the very best savings accounts and security for our customers in the UK.'
MORE: Family fun as new £250,000 Mitsubishi showroom opens

MORE: Time Is Money: Why capturing and measuring data is key to online success
MORE: SsangYong launches £1m ad campaign around new Tivoli SUV
MORE: New site to help dealers with leasing finance options
On superunleaded.com – Nissan Just Made Our Office A Bit More Car