ALAN DAY Volkswagen drove into the record books with a bumper sale of new cars to mark the latest 16 registration.
More than 60 new vehicles including Golfs, Tiguans and Polos were sold, leading to record-breaking figures for the quarter.
The group, which sponsors Aviva Premiership rugby champions Saracens, has four dealerships across London – on The Highway in the City, Finchley Road, Hampstead, and two on the North Circular Road in New Southgate.

And satisfied customers were lining up to drive away their shining new 16-reg motors as soon as the dealerships opened on March 1.
Delighted managing director Paul Tanner confirmed: 'We are on course for a record-breaking quarter which I believe is all down to the quality of customer service we provide.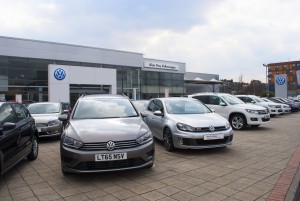 'Our customers receive a five-star treatment at all of our showrooms and it proves great customer service wins at the end of the day.
'VW went through a difficult period last year but it appears we have come through that and we pride ourselves at Alan Day on customer satisfaction and service.'

The Golf was one of the best-selling cars in the UK last year and interest in the new Tiguan is already huge before its launch in April.
Tanner added: 'I'm very excited about the launch of the new Tiguan which is a top-quality car and we are anticipating high demand when the model comes into out showrooms in April. I think drivers are going to be really pleased with this new model.'
Alan Day Volkswagen has forged a strong partnership with Saracens Rugby Club who are top of the Aviva Premiership – the world's most competitive domestic rugby union competition.
The tie-up goes from strength to strength and has led to Alan Day also helping sponsor the Foundation Rugby Programme which includes touch rugby training for youngsters with disabilities.
MORE: We've relaunched Car Dealer Club – here's how to sign up
MORE: TVR announces production facility in South Wales
MORE: BCA announces appointment of new MD for technical services
On SuperUnleaded.com: Want To See A Phone-Controlled Car? Of Course You Do