DO YOU think you're the best dealership with under 50 cars? Then you need to make sure you shout about it – and we're giving you the perfect opportunity to do just that.
Our Used Car Awards are in their third year now and winning one gets the message across to the public loud and clear what a top dealership you are.
In the run-up to the event – which is being held at The Brewery in London on November 30 and will be hosted by TV's Wheeler Dealer himself, Mike Brewer – we're hearing from last year's winners about how much their victory meant to them and why it's important to nominate.


Portsmouth-based Prestige Diesels, run by Alexis Cassey and Scott Shilcock, carried home the trophy for Used Car Dealership of the Year (Under 50 Vehicles), sponsored by Black Horse, at the 2014 event.
Cassey said: 'We started the business in the middle of the recession and worked our heart and soul to get to where we are, so winning the award was a wonderful recognition that we were doing it right.
'It meant everything to us to win, because we've only been trading for four years. It was huge! And winning has helped us massively. It's built confidence in people, as we're tucked away on an industrial estate, not on a busy road.'
The Ackworth Road company may be tucked away but it's certainly going places – in June, it headed our list of the Top 150 Most Influential Dealers on Twitter, having leapt straight in at number two in our Top 100 last November.

Prestige Diesels proudly displays its winner banner on its website so that people checking the company out on the internet can instantly be assured of its high quality of service.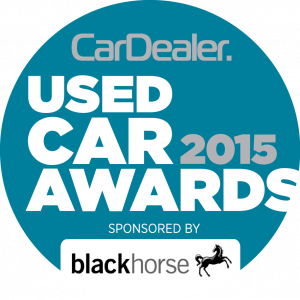 The 20 categories for this year's Used Car Awards, which have the hashtag #UCAwards, are listed here, and you can make your nominations very quickly and easily via this link. Make sure you give lots of detail about what makes you the best – you've got until October 22 to submit your entries. Shortlists will then be drawn up by our judging panel, headed by Brewer.
Don't put it off and put it off and then run the risk of forgetting to submit your nominations, because you'll then miss out on your chance to truly show the world how good you are.
Tickets for the glitzy black-tie event – always a great excuse for an office Christmas party! – can be ordered via this link, as can accommodation options with terrific deals we've negotiated for you.
MORE: Lookers buys Benfield Motor Group for £87.5m
MORE: Nissan announces £100m investment in UK production of second-generation Juke
MORE: Peter Vardy sees sharp acceleration in sales and profits
On SuperUnleaded.com: Cute toddlers love going sideways in dad's E46 M3