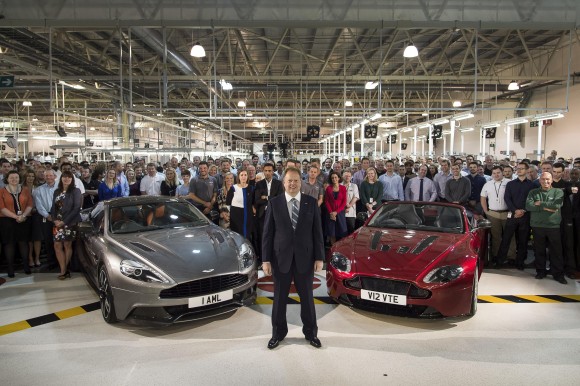 ASTON Martin's new chief executive has confirmed the British manufacturer is considering moving into the lucrative SUV and hybrid markets.
In what will seem like sacrilege to fans of the James Bond brand, new boss Andy Palmer has told The Sunday Times that the maker 'cannot afford to ignore' the booming segments.
Bentley and Maserati are already planning excursions into the SUV market while Porsche's success with the Cayenne, and more recently the Macan, are well documented.

The German brand in particular turned around its fortunes thanks to booming sales of its 4×4 models. So much so it sells more of these than sports cars these days.
Palmer – who has joined the British maker after 30 years at Nissan – told the Sunday paper: 'To have a car in our range that is desirable and purchased by and driven by women requires a different approach because most of these women are driving SUVs.'
Palmer told the paper that he will ensure any SUV that the brand does will 'approach sports cars from a next-generational perspective', but promised it won't be a flop like the Cygnet city car.
That car was axed last year and Palmer was adamant the brand won't be heading down that route again. 'I would not do another Cygnet,' he said.

Palmer is also candid when asked about Mercedes' interest in the manufacturer. Daimler has bought a five per cent share in Aston Martin and will share its engines and some technology for future models.
'Dieter (Zetsche, Daimler's chairman) has been very clear – he does not was to buy us,' Palmer told the paper's Business section.
'He thinks Aston is much better in Aston Martin hands than it is in the hands of Daimler.'
The brilliant interview is one of the first Palmer has given since leaving his role as chief planning officer at Nissan where he was Carlos Ghosn's most trusted right hand man. Car Dealer recommends tracking down a copy of yesterday's paper to give it a read.
MORE: Come on Mercedes, it's time to make your move on Aston Martin
MORE: Andy Palmer named new boss of Aston Martin
MORE: Aston Martin's 'Concorde' could be coming here