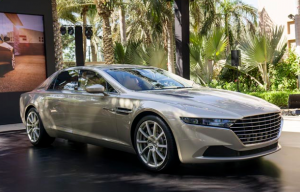 COULD Aston Martin's stunning new sports car be on its way to showrooms in the UK?
It would certainly seem the company hasn't ruled out the possibility – even though it is a Middle East-only proposition at the moment.
The British manufacturer hit the headlines in Dubai yesterday when it conjured up marketing metaphors linked to the world of luxury air travel as it unveiled the Lagonda Taraf super saloon.

Aston Martin chief executive Andy Palmer said: 'It is the Concorde class that eclipses first-class travel.'
The industry has been buzzing about the car since Aston Martin revealed earlier this year it was not only reviving the Lagonda badge (last seen in 1976) but that the model was going to be sold exclusively in the Middle East.
To heighten the levels of anticipation still further, it was announced that you could only buy it by invitation; that there would be a limited number, thought to be 200; and that the company wasn't revealing the price.
The hype certainly worked – in fact, there has been so much interest in the six-litre V12 hand-built saloon globally that Palmer said the firm was considering other markets for what he described as 'one of our most significant and exceptional new cars in many years'.

@CarDealerEd @astonmartin I would not discount this possibility

— Andy Palmer (@AndyatAston) November 11, 2014
He said: 'After announcing the car for the Middle East, the reaction from around the world has been extremely high and I can confirm that we are now evaluating the opportunity of offering this Lagonda in other markets.
And he told 7 Days in Dubai: 'We are getting an awful lot of demand outside the Middle East. That's why the first action I have been able to do on this car is to essentially say let's study keeping the limited number but let's also study the customers in Europe and in other markets that could also be interested in taking this.
'So, born in the Middle East but could, potentially, go global.'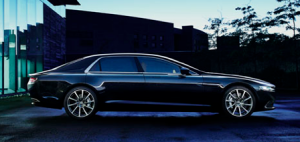 Aston Martin's decision to build the car, the price of which is thought to be about £600,000, is a signal of the importance the firm places on the market.
The Taraf draws inspiration from the famous William Towns-designed Lagonda of 1976, which was predominantly sold in the Middle East.
Aston Martin is in the early stages of a £500 million product development plan – the largest in its 100-year history – to create a new range of sports cars.
Andy Palmer joined Aston Martin from Nissan at the start of October.
MORE: Aston Martin names Andy Palmer as new CEO
MORE: The only way is upmarket, says Peugeot chief
MORE: Audi's TT Sportback sparks excitement
MORE: Stoneacre Motor Group's new website