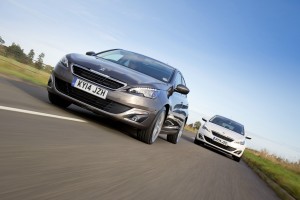 DRAGGING the Peugeot brand further upmarket to rival the likes of Volkswagen is the number one priority of new UK chief Stephane Le Guevel, Car Dealer has been told.
The Frenchman has taken over from Tim Zimmerman and, like his predecessor, has arrived directly from running Peugeot's China operation.
It was in China where he saw just how important a strong brand image is to the manufacturer and it's these lessons that he'll be drawing upon as he looks to mix things up here.

'One of my priorities for the UK is to improve the brand perception of Peugeot,' he told Car Dealer. 'Rather than just launching one model after the other we need to build the brand. It used to be very strong, but we need to reshape it.
'I was in China for three years and there the brand is very important, just as it is in the UK. Quality needs to be improved, and the way we talk about the brand needs improving. There is a lot to do, including with the dealers.'
Le Guevel admitted that Peugeot had made compromises in the past in terms of quality, but he is convinced that those days are past. 'We may have compromised in the past but we don't compromise any more,' he confirmed.
The new UK boss is convinced that Peugeot is now more of a rival for the likes of Audi and Volkswagen and boldly claimed the firm's new 308 is 'better than a Golf'.

When asked who he thought Peugeot's customers are these days, though, it took Le Guevel an awkward amount of time to give us an answer. Finally, he said: 'We are generalist, so we talk to a wide range of customers.
No budget alternative
'We have a higher proportion of women because of our design. We are selling to a younger audience with the cars we've recently launched. The average buyer age is starting to come down, especially with cars like the 108.'
He remains convinced that Peugeot's success lies in driving the brand further upmarket too and admitted that left a gap to be filled by other brands. He categorically ruled Peugeot out of creating a budget alternative to fill this space, as Renault has done quite successfully with Dacia.
'We will not rival Dacia,' he said.
'As far as Peugeot is concerned, this is definitely not something that we are looking at.
'We compete with brands like Ford, which is strong in the UK and an unusual competitor compared to other European markets. Volkswagen, clearly, is another. A product like 308 is taking us towards VW.
'We see more and more VW owners coming to us and buying the 308. Even Audi drivers are coming too from A3. We have said we're moving upmarket and we can see that proven by what customers are part-exchanging.'
Paris Dakar special could be arriving here next year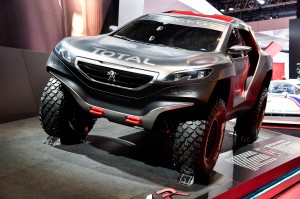 EXCITING performance models are still key to the Peugeot strategy and we can look forward to a Paris Dakar-inspired 2008 possibly arriving next year, said boss Stephane Le Guevel.
Taking pride of place on the stand at the Paris Motor Show was the 2008 DKR, which is a V6 bi-turbo diesel with 340bhp and 800Nm of torque.
The UK chief said that with exploits in rally and big events such as the Paris Dakar Rally, it made sense for the manufacturer to capitalise on them with road-going versions as well. 'If there is a market in Europe where these sorts of cars can work it is the UK,' he said. 'RCZ sells in the UK more than anywhere else.'
MORE: Nissan Leaf sales doule as EV message gets through
MORE: Prize-winning Tracy hits the road in her new Aygo