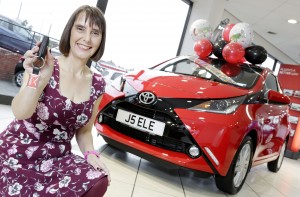 CHESTERFIELD Toyota dealership Gordon Lamb has handed a brand new Aygo over to a lucky competition winner from Sheffield.
Tracy Merriman was automatically entered for a prize draw when she placed an order for a new car at the showroom.
She had no idea she would be the lucky winner among hundreds of entries received during a weekend of Go Fun Yourself Aygo activities held in August to launch the new city car at Toyota centres across the country.

Tracy returned to Gordon Lamb Toyota to drive away her new Aygo with no bill to pay for her car's on-the-road purchase cost, or the options and accessories she had specified when placing her original order.
She had taken full advantage of the possibilities presented by new Aygo, choosing an x-pression five-door model in brilliant Red Pop with contrasting gloss black exterior styling features and bright red detailing in the cabin. With mudflaps and a x-nav navigation system included in the specification, her car's price tag would have been more than £12,000.
Tracy is a newcomer to Toyota, having been convinced to switch from her previous city car to new Aygo after spotting it on display while waiting for her husband's Toyota to be serviced.
She said: 'I've never won anything before, I couldn't be happier. I've won the exact car I ordered, so I've got everything I wanted and more. The people at Gordon Lamb are fantastic, friendly and helpful and [sales executive] Andrew Harding was great in taking me through the many options available.'

Paul Jenkinson, centre principal, said: 'I am absolutely delighted for Tracy, the car could not be going to a more deserving or happier winner.'
MORE: British public can't get enough of new Aygo!
MORE: Donation from Toyota gives disadvantaged kids a boost