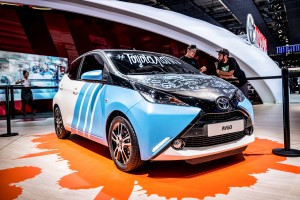 CHRIS Evans famously hates it. But it seems as though he's in a fairly small minority.
For the new version of the Toyota Aygo has proved such a hit in its first few weeks on sale in the UK that the biggest problem has been keeping up with demand.
In a review for The Mail on Sunday earlier this year, Radio 2 DJ Evans described the car as 'appalling' and, in a reference to the marketing tagline Go Fun Yourself, wrote: 'This car doesn't look fun, it doesn't feel fun, it doesn't drive fun.'

All of which must have made pretty unpleasant reading for the team at Toyota HQ. As it turned out, they needn't have worried.
Car Dealer caught up with Matt Harrison, president and MD of Toyota GB, in Paris and he told us: 'The car has had an incredible response. From the first moment it created a wow effect and it's clearly very different. It's bold and stands out.
'It's been a success with existing Aygo customers, where we have a lot of equity and a lot of loyalty, but it's also been a hit with a younger, conquest audience.
'We've carried a big order bank into the fourth quarter and supply is our biggest headache – getting enough cars to meet demand. That's a nice problem to have though, frankly.'

Although it's questionable whether many outside the motor trade will be aware, Aygo has two siblings, the Peugeot 108 and Citroen C1, similar-sized cars that share many components and even the same production facility in the Czech Republic.
Harrison is confident Toyota's offering is the most distinctive of the three.
He agreed that the first-generation Aygo bore plenty of similarities to its sister cars but added: 'With generation two, the cars have been pulled apart significantly. We think our car is quite cool and it appeals to a much younger group of customers.
'We laid our stall out from the first day with the new car to stand out and be a bit bolder. With Peugeot and Citroen, they have taken a bit more of an entry-level approach, saying this is the access point to our range.
'I think Aygo has always had, dare I say it, a bit more personality and attitude than the Peugeot and Citroen derivates.'
One of the key selling points for new Aygo is the customisation options available and in Paris, this approach was taken to another level with the involvement of a trio of top French street artists who used an example of the city car to create some special works of art. Starting each day with a plain white vehicle, the threesome recruited ideas from visitors to the Toyota stand to design designs to cover its bodywork and windows.
New Aygo joined the hydrogen-powered Fuel Cell Sedan and, making its world debut, the C-HR crossover concept, on the Toyota stand.