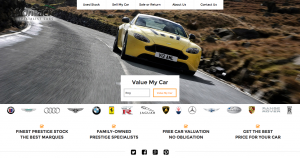 STONEACRE Motor Group has branched out with the launch of prestige car website Stoneacre Specialist.
Customers using Stoneacre Specialist will be able to search through a stocklist of premium vehicles for sale and also get a free valuation for their current car with the option to sell.
Stoneacre has said the cars to feature on the website will include Aston Martin, Mercedes-Benz and Range Rover, among others.

Also available as a facility is sale or return, where customers have the chance to maximise their car's value through Stoneacre Specialist selling the vehicle their behalf and passing the value sold onto the customer.
The new company will be based at Stoneacre's head office in Thorne, Doncaster and will have dedicated staff for each part of the business. Stoneacre Specialist believe the location is highly accessible, being just off the M18 with good links to the M1, A1 and M62.
Stoneacre Specialist is being headed up by Stoneacre's Managing Director, Shaun Foweather, and he believes this new direction for the company can only be a benefit for the future.
Foweather said: 'We're very proud to officially be entering into the world of prestige vehicles. This is new territory for us, but with our two decades' experience in the motor trade, we're confident we can make this a success and have Stoneacre Specialist become a growing part of our plans.

'As an exciting new business venture for us, we hope it will showcase just how versatile we can be as a company and give Stoneacre an additional customer base.'
MORE: Digital dealership Rockar Hyundai opens in Bluewater
MORE: Exclusive: Top 10 tips for getting the best from Google Analytics
MORE: 'Engaging and flexible' – wraps come off Bentley's new website