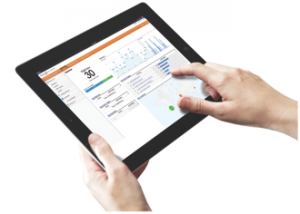 WE'RE all well aware of the vital role the internet plays in our businesses these days. But have you heard of 'web analytics'?
Put simply, it's something that every dealership that has a website should be using. There are many paid and free analytics tools available, including Google Analytics. In a nutshell, a web analytics tool is an online service that generates detailed statistics about a website's traffic and allows you to analyse that data and understand the impact and effectiveness of your website. Clever stuff!
Did I hear you say it's free?
Google Analytics is one of the most powerful and widely-used analytics tools on the market. As well as being free, it also offers marketeers, business executives and web developers the opportunity to learn what marketing objectives are driving business value, how the website performs as a sales channel, and what features are being used most frequently by visitors.

So how do I get started?
Getting started only requires an email address to create an account. Once you have logged in, you then need to get yourself familiar with the interface, the reports and the insights it can provide you. Our top 10 tips for getting started with Google Analytics have been compiled by Google's Scott Sinclair.
1. Get tagged up. In order to capture your user data, you first need to copy and paste a piece of code on to your website. Simply log into Analytics, go to admin and copy the tracking code. Ask a web developer to put this on every page of the website in the header section.
2. Upgrade to Universal Analytics (only appropriate if currently using Google Analytics): If you are already using Google Analytics, you will want to upgrade to the latest version so that you can benefit from some exciting new functionality, including user journey flows and multi-device tracking. Multi-device tracking allows you to track activity from users across both desktop and mobile websites.
3. Set up conversion goals: Goals allow you to measure 'completed actions' within Analytics. For example, knowing how many customers went to your 'find-a-dealer page' is a valuable thing to know about customer behaviour.

4. Understand the reports and what they mean: There are many reports in Google Analytics including viewing your conversion rate to understanding what countries your users are visiting from. Once you have some data in Analytics, the best thing to do is have a play around and understand what kind of information is available to you.
5. Link to AdWords: Linking Google Analytics to your Google AdWords account will allow you to understand the end-to-end journey of customer behaviour. For example, you will be able to see what Google search ad made a visitor click on your website, and what he or she did from when they first arrived on your website right through to conversion.
6. Link to AdSense (if you have an AdSense account): If you have an AdSense account and are using your website to earn incremental ad revenue, then you should also link this to Analytics. This will allow you to understand which pages are working well with ads on them and are generating you most revenue.
7. Link your Analytics account to ecommerce performance: Ecommerce tracking will require an additional piece of code to be added to the website. However, once this has been added, you will be able to see financial information within AdWords. You will then be able to measure the return on investment from your digital marketing activity.
8. Segment your traffic: Segments allow you to isolate and analyse subsets of sessions and users on your website. For example, a dealer might want to analyse all the aftersales customers who visited the website and booked in for a service. By creating this subset of data, you can start to understand the effectiveness of just the aftersales online booking system.
9. Set up regular email alerts: Google Analytics lets you set up regular email alerts. For example, the marketing department might want to schedule regular reports to go to different directors that give them a custom overview of how traffic to their section of the dealer group website has performed, how many people booked services, and how much parts revenue was generated.
10. Download the mobile app: In today's fast-moving world, you might not always have the opportunity to log into Analytics from your desktop. Thankfully, there is a mobile app that lets you keep up-to-date with how your website is performing while you are on the go.
MORE: Ten more dealers sign up to represent Ssangyong
MORE: The digital dealership with no salesmen
MORE: Wraps come off Bentley's new website