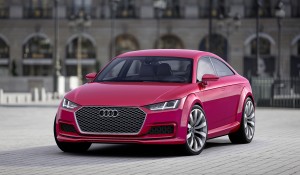 AUDI had a world debut on display at Paris: the TT Sportback concept.
Adding 29 centimetres to the length of the 'standard' TT to incorporate rear doors, the aim of the full four-seat car is to take the car's recognisable style and silhouette in another direction.
And that direction will lead straight to the garages and driveways of the UK's company car drivers, Audi hopes.

The second-generation TT sold 10,000 more models thanks to a diesel engine being offered for the first time – and many of these went to fleet buyers.
However, several company car lists ban coupes so Audi has developed its new concept – a compelling proposition for those fleet user choosers.
'It's still a concept at the moment but if it gets the go ahead we'll clean up,' Car Dealer was told.
That's not to say the brand's not performing strongly with the hugely extensive model range it currently has. Although the most recent set of registration figures issued by the SMMT show the actual number of Audis being sold in the UK was down year-on-year for September, the company still enjoys a healthy market share in excess of six per cent.

Car Dealer caught up with brand director Andre Konsbruck in Paris, who told us: 'Our show cars have been very well received, at least that's my impression. Interest [in the TT Sportback] is really strong, especially from the UK, because TT is of course something really special.
'Anytime we present a TT derivative there is always a lot of excitement around and people are always asking when you are launching the car, but of course it is not decided yet.' Audi is certainly not a brand to rest on its laurels. Konsbruck told us: 'It has been officially announced that we are going to expand our product portfolio from 50 to 60 models, so there is much more exciting stuff that you can expect for the future.'
He explained that production capacity was a big topic for the company, with investment underway in a factory in Mexico to keep up with demand.
'I think this year will again be our most successful year,' he said. 'I think dealer profitability is really strong now in the network so they are really happy. We have a complete network. The only thing which we have to see now is how we are going to cope with capacity, especially on the used car front.'
MORE: Mazda: Are plug-in hybrids 'a bit of a game'?
MORE: The only way is upmarket, says Peugeot chief