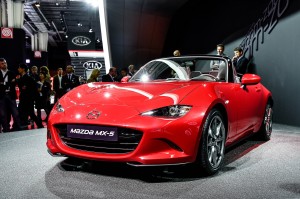 MAZDA is a manufacturer often described as 'unconventional'. And that description could certainly be applied to the firm's thinking on electric motoring.
As more and more automakers make forays into the development of EVs, the innovative Japanese company is taking a decidedly different stance. Car Dealer caught up with Jeff Guyton, Mazda Motor Europe's president and CEO, and he told us: 'Yes, we're ever the opposite!
'I don't want to sell electric motoring completely short because I think we all believe somehow in the future there is most likely an electric solution, certainly as part of the mix of mainstream vehicle sets.

'So we're not ignoring the technology, and we've done quite a lot of nice work in Japan on it, but our view is that it's not commercially viable for, let's say, society.
'And before it is commercially viable we need a huge breakthrough in the creation of electricity and a huge breakthrough in the capacity of batteries to store the power, and until that point, what we've got to do is improve the CO2 output of the cars that we are driving.
'Our target is by the end of the decade to have a Mazda 6-sized vehicle with the performance of today's 2.5-litre gasoline engine, and to have the CO2 output of that car equal to that of an electric vehicle.'
An interesting approach, and Guyton continued: 'In most countries around the world we burn a lot of fossil fuel to get electricity, so our tax schemes at the moment don't look at that, which I think is misguided. When you really peel back things like plug-in hybrid and see that the fuel tank in the plug-in hybrid of model X is the same size as the non plug-in hybrid, it's a fancy way to dodge a bunch of tax.

'I live in the middle of a city in Germany and unlike most of the people around me, I rent a garage. Even there I would have nowhere to plug in an electric car, so what I would do is drive to the petrol station like I normally do and save my tax. It's a bit of a game and it's a very expensive one, and at Mazda, we think differently about these problems.
'We might all wake up tomorrow and find somebody has invented the greatest way to create electricity and the greatest way to carry it around with you. But in the absence of that, we are taking what we think is the most rational approach, which is to get the most out of every drop of gasoline.'
MORE: Nissan: Leaf sales double as EV message gets through
MORE: Tesla embraces the Midlands with latest store in Birmingham
MORE: ShowPower: Battery packs supply volt of confidence