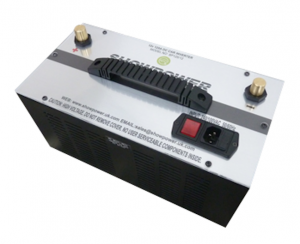 WITH every new car launch there seems to be an advance in the technology it uses. Clever gadgets that make lives easier for drivers are appearing in ever-bigger droves, pushing the envelope of what's possible. 
But while this technology is brilliant news for buyers, for dealers it can be a real headache.
It's fine if your stock-in trade is £6,000 hatchbacks, but what do you do if you stock luxury cars or take in part-exchange a posh motor that has as many electronic gizmos as Buzz Aldrin used to get to the Moon? If you can't show off all that wizardry to an inquisitive customer you'll have lost a sale and that punter will pop along to a dealer that can.

This is exactly how ShowPower can help. Haven't heard of it? Well, now is the time to take notice, because the company could be the aspirin to those techie headaches.
The Essex-based business supplies battery packs to power showroom demonstrators. It has some of the largest car brands on its books and works with dealers large and small all around the world. Its parent company – Media Electrics – has been working with car manufacturers for years, supplying them with all of their electrical needs.
'Our core business is following some of the biggest car manufacturers around the world to install their electrical systems,' says ShowPower's director, Scott Cutmore. 'We work with Jaguar Land Rover, Ford, Mazda and Aston Martin – among others – and help with the installation of their glamorous show stands.
'As the size of show stands got larger, the car manufacturers were finding that the cars used for display were running out of power.'Those cars have to show off the technology in the car and the manufacturers were finding that they were having to replace the batteries constantly.

'We started producing and supplying 12-volt power packs, giving constant power to the cars and taking away the element of recharging.
'It started off low-key but as things progressed Jaguar Land Rover approached us to talk about the MY10 Range Rover.'
The British brand wanted to show off the breadth of technology on the car – so much so that the company went to great lengths to produce sales literature to train staff and to get dealership staff to demonstrate the technology to the customer while in the showroom.
JLR found that the battery lasted approximately 30 minutes, so the company came to Media Electrics to create a solution for its dealerships – and hence the creation of ShowPower.
'The problem was our battery packs were industrial and not suitable for selling to Land Rover dealerships,' says Cutmore. 'We went away and within a two-week period we came up with a far more suitable power pack. We took one of our bare power pack units and modified it to sit into the space where the car battery sat. When the dealer opened the bonnet to a customer there was nothing special to see, as our power pack took the place of the car's normal battery. And then the deal was done that every Land Rover dealer globally would buy these packs from us.'
Media Electrics was in the right place at the right time, as Land Rover's product offensive had just begun – and it doesn't look like it will stop. 'We immediately began work on producing battery packs for the Range Rover Evoque, the new Range Rover and the Range Rover Sport, and have begun work on the new Land Rover Discovery Sport. Our products were also being used at the Jaguar XE reveal at Earls Court last month. It's an exciting time!' says Cutmore.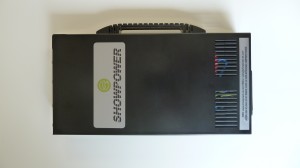 ShowPower's products aren't just for Jaguar Land Rover dealerships, though – far from it. Any dealer and showroom in the world can use the company's technology. There's a whole portfolio of power packs available and they can sit under the bonnet or can be positioned underneath the car, neatly and efficiently. They plug into a 13amp socket in the showroom floor and allow dealers to show off a car to its full potential, 24 hours a day, seven days a week.
Quite simply, if a car needs power, ShowPower can power it. For the dealers who are using ShowPower power packs, it has revolutionised the way they demonstrate a car's technology to a customer.
'We've heard of dealers who, before using our products, were having to take customers out of the showrooms and into the car park to show off the technology on the cars,' explains Cutmore. 'Sales people would have to have the engine running just to make sure the battery was charged, or, even worse, during the test drive. It was a nightmare in the winter.
'Our products help to keep customers inside the showroom – in that regard it's one of the best sales tools you could have.'
The company has just started to supply power packs to Ford and Toyota for their motor show stands and to Hyundai for its Training Academy workshops.
And it is open to discussions with dealers of all sizes to create a bespoke solution for them. In addition, the company has agreements with a number of manufacturers to supply interior lighting through its ShowLight brand.
'We do have one competitor but our products are far and away better engineered,' says Cutmore. 'All our products have the very best Taiwanese and Japanese hardware, which makes them ultra reliable. Since 2010, we have only heard of one pack failing – and that was only because it had been exposed to water!'
Call ShowPower: 0208 523 0303