THE TENTH annual Auto Trader Click Awards took place in London yesterday to recognise dealers who go the extra mile in their digital sales.
La Etta Pearce and Darren Moon, group sales directors at Auto Trader, presented the awards with BBC Breakfast's business reporter Steph McGovern at the City of London's Banking Hall.
This year's ceremony marked a decade of the awards and saw a record number of self-nominations submitted. Insights director Nick King put across the message that digital strategies are now more important than ever for car dealers to be successful.

Two new self-nomination categories appeared for the first time – Business Transformation of the Year and Digital Innovator of the Year. These were judged by a panel of digital experts from Google, LinkedIn, Vodafone, ZPG and HAVAS. Winners of other categories were chosen by a survey of 10,000 car buyers and an analysis of 160m different data points on the Auto Trader platform.
Below is a table of all the winners at the awards, including HR Owen, JCT600 and Geoff Cox Subaru: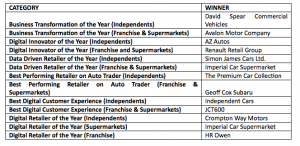 Following the handing out of the awards was a talk from McGovern, who congratulated the winners and explained how she got to where she is in the BBC.
A massive congratulations goes to @HROwenOfficial for winning Digital Retailer of the Year (Franchise) #ATClickAwards pic.twitter.com/jpAnvJ2woj

— Auto Trader Insight (@ATInsight) June 29, 2017
Speaking at the event, Pearce said: 'The Auto Trader Click Award winners should feel immensely proud. Not only has this tenth year seen a record number of entries – but the bar has once again been raised on quality – and the winners have proven that digital strategies and a data-driven approach are key to adapting business, improving online experiences for buyers and above all succeeding in today's increasingly competitive marketplace.'

Catherine Walker, head of digital and marketing operations at Vodafone and judge at the 2017 awards, said: 'This year's submissions have been a joy to read, and we've seen some great examples of digital innovation, particularly from the smaller entrants with tighter budgets and resources. From this year's winners, we've seen some fascinating ideas and smart thinking – showing inspiring signs of versatility and nimbleness – which certainly bodes well for the future of automotive retailing.'
MORE: SsangYong introduces 48-hour test drive on Tivoli
MORE: Three more dealers sign up to SsangYong's expanding network
MORE: Witham Vehicle Solutions is named SsangYong UK Dealer of the Year 
On SuperUnleaded.com: How not to drive a Ford RS200 at Goodwood