THE automotive industry has come next to last for customer satisfaction in the latest survey from service design consultancy Engine.
Just 12 per cent of the 1,024 people asked for the second annual Customer Experience Survey said they were happy with the service they received. Out of the 14 sectors, the insurance sector fared the worst, at 11 per cent. However, automotive proved to be the sector where people's choice of provider was least influenced by customer experience.
Oliver King, co-founder of Engine, said: 'It's certainly a cause for concern that automotive ranks behind even public transport/trains and utilities in terms of quality of customer service.

'Although figures suggest the experience isn't a strong influence on customer choice, this is because in sales, by the time people reach a dealer, they've pretty much decided exactly what they want to buy, so the interaction is much more about ratifying and confirming the product meets their needs.
'However, it's naïve for manufacturers and dealerships to be lazy about customer experience because of the impact it has on the more profitable and ongoing areas of servicing and repairs. For automotive, customer experience is all about ownership. Whilst the relationship may start at purchase, they way customers are treated and the service levels dealerships provide will be the deciding factor in loyalty.'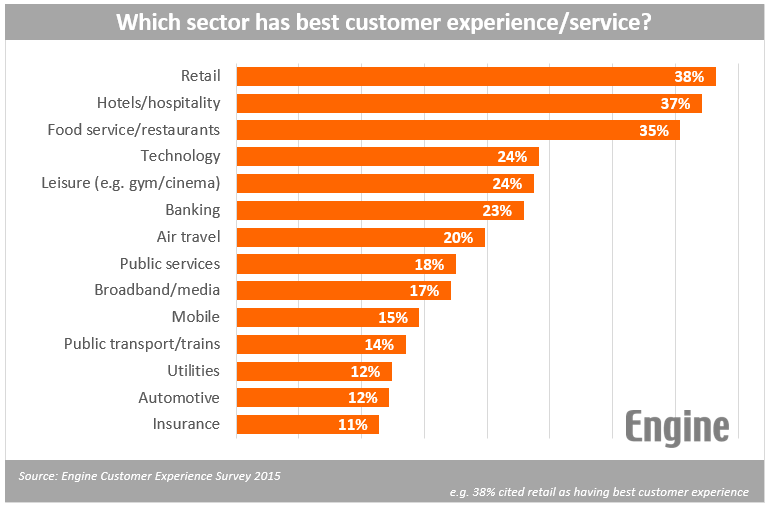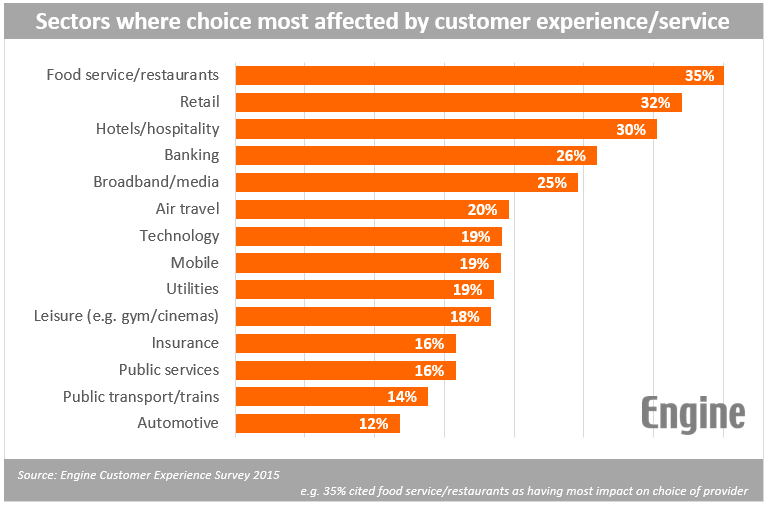 Openness/honesty was the most-valued trait in the way a company provides its customer service and experience (cited by 49 per cent), followed by efficiency (43 per cent) and reliability (41 per cent). All three of the most valued traits become a bigger factor with age – particularly openness/honesty.
'Dealerships and manufacturers can't afford to think about what's important to their "average customer" – that person doesn't exist,' noted King. 'Instead, they need to think of the different customer profiles and tailor the experience accordingly for each one. For instance, older people put greater emphasis on the experience being honest, efficient and reliable, while the younger generation puts more store on it being flexible and enjoyable.'

The report also revealed that consumers were nearly twice as likely to recommend a brand or company based on the quality of service (62 per cent) than on price (35 per cent). This 'skew' towards service was even more pronounced for people over 55 (69 per cent vs 29 per cent).
The consultancy said that better customer experience led to increased revenues, greater likelihood of recommendations, process efficiencies and customer loyalty. King stated: 'Businesses can more accurately measure the impact that an improved customer experience has on performance. Clients like Jaguar Land Rover, Hyundai and Mercedes-Benz have all used service design techniques which essentially put greater customer focus into designing the experience a company provides.'
The figures in the survey were weighted and are representative of all British adults aged 18 and over.
MORE: NFDA urges government action over clockers
MORE: Manager takes charge of two Nissan dealerships in Scotland
MORE: All-new Mégane 'will bring buyers into dealerships more often'
On SuperUnleaded.com: Mercedes gets a (golf) clubbing