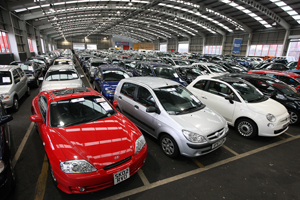 AVERAGE values for sales across auction houses dropped in January, according to the National Association of Motor Auctions.
NAMA's monthly report for January shows that average values across auction house sales actually dropped in January – decreasing from £5,402 to £4,856, equivalent to an 10.7 per cent fall in values.
The drop, says NAMA, can mainly be attributed to an influx of older cars – particularly part exchanged vehicles, whose average values dropped eight per cent.

Manufacturer or rental sourced vehicle values dropped by five per cent, too, though ex-fleet sales remained fairly stable with just a 0.6 per cent drop –reportedly helped by a low supply of 2.5-4.5 year old vehicles.
Sales activity, meanwhile, actually increased substantially in January – particularly in the dealer part exchange sector.
'There continues to be strong competition amongst buyers for the most desirable vehicles and this shows no sign of waning,' commented NAMA executive committee member Tony Gannon.
'The low supply of three year old vehicles as a consequence of poor new car sales in 2009/2010 will continue during 2013. This is likely to result in the continued buoyancy of prices in the fleet sector due to the limited amount of quality vehicles it has to offer.'