AVERAGE UK motor retail profitability was down 6.7 per cent in March 2018, according to ASE.
The automotive retail profitability specialists say that the average UK car dealer made a profit of just less than £107,000 in March, equating to a year-on-year decrease of £7,700.
This means that the overall result for Q1 was 7.5 per cent less than the figure recorded in the first three months of last year. However, although the drop is a significant one, it falls short of the 12.4 per cent decrease in new car registrations seen in Q1 2018.

A decrease in aftersales contribution in March meant a significant drop in overhead absorption was also seen. This has been attributed to the poor weather at the beginning of March, as many businesses were unable to recover the hours they lost in the workshop and didn't manage to match their 2017 performance or achieve any growth.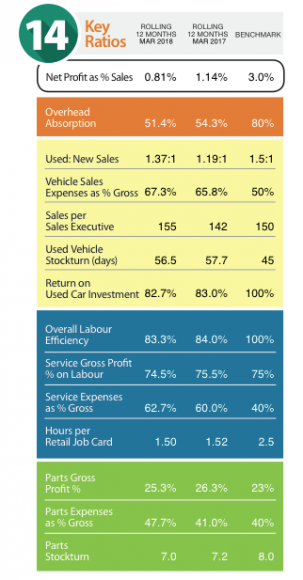 On a more optimistic note, March saw continued strength in used car performance, as margins and stockturns remained strong. The market showed no signs of deterioration, although there was an increase in stock holding towards the end of the month. It is therefore vital for dealers to make a profitable disposal of these vehicles throughout Q2 and the remainder of the year.
Meanwhile, April is expected to usher in some good news about registrations, with an increase of more than 10 per cent and good growth in private retail registrations.
As usual, there was a rush at the end of the month, but registrations were ahead for the majority of the month in comparison with the prior year, which indicates that the improvement seen was not wholly a result of a wave of pre-registrations.

As time goes on, WLTP regulations are beginning to have an impact on vehicle supplies, which doesn't affect the overall number for the year, but could lead to some registrations being pulled before the deadline while others are postponed.
MORE: Pendragon sees new vehicle revenue fall more than 13 per cent in first three months of 2018
MORE: CDX 2018: Unmissable Google keynote explains how new technologies are changing buyer behaviours
MORE: Ben Garside: Artificial intelligence doesn't spell the end but a new beginning
On WorkshopMagazine.co.uk: IMI calls for new laws to protect mechanics working on EVs