Let me introduce you to one of Car Dealer Magazine's Bangers4BEN entries – the Blackball Media Mazda Mx-5 Turbo Type-R M Power Sport Edition.
Our H-reg 1.6-litre Mazda is looking pretty tidy now thanks to Wraptition. Chris Davies has worked his socks off to help us prepare our car in time for Bangers4BEN and the carbon fibre wrap looks brilliant.
It's arrived! My @Bangers4BEN steed for our charity rally to Turin has arrived. Carbon fibre wrap by @wraptition 🙂 pic.twitter.com/MiAci9k5gb

— James Baggott (@CarDealerEd) October 8, 2014
Over the last few weeks we've given the car a good shake down. It cost us £500 from some dodgy character on eBay and when it turned up I set fire to brakes after a test drive down the road. Apparently they weren't in good shape.

MORE: MEET SOME OF THE OTHER TEAMS
After a trip to our friendly mechanics it's had two new tyres, new brakes at the back and something else technical that went over my head when they told me.
I've been concentrating more on the important things – like the badging. I'm sure we've added 34bhp AT LEAST with these beauties…
We couldn't decide on one badge so let me introduce the Mazda MX-5 Turbo Type R M Power Sport… Edition pic.twitter.com/81ICF0Ylgf

— James Baggott (@CarDealerEd) October 9, 2014
Other optional extras have included fluffy dice (because it would be rude not to), an on-brand Blackball Media gear knob, and an absolutely brilliant Sony MEX-N4000BT stereo. Our friends at Halfords installed it for us and our first impressions are that it is awesome. It boasts Bluetooth, CD player and a radio (remember them?).

We've bought Lucky Fluffy Dice. The most awesome gear knob ever. And a brilliant stereo thanks to @Halfords_uk pic.twitter.com/nYOOGBtr9E

— James Baggott (@CarDealerEd) October 9, 2014
I've also had to modify the graphics to account for a last minute change of co-driver. Former Car Dealer staff writer and now Blackball Media Super Tech Video Website Geek Jon Reay is now in charge of programming the sat nav.
And now I've got a co driver confirmed I've professionally amended the sign writing… pic.twitter.com/gPohhsAdze — James Baggott (@CarDealerEd) October 9, 2014
We've managed to get our hands on a TomTom sat nav thanks to the nice people at Halfords. Hopefully the Go 50 model – modelled here by my glamourous assistant (clothes, model's own) – will get us there without detours via Norway.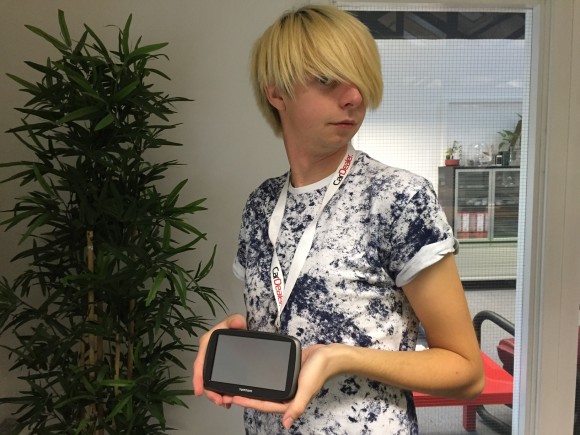 And we've invested in some mystic help to assist us in our decision making. The Blackball Magic Eightball will be helping with all our important decisions – shall we turn left? Shall we eat McDonald's now? Is this really what the French class as a motorway service station toilet?
At present. though, it's not being particularly helpful…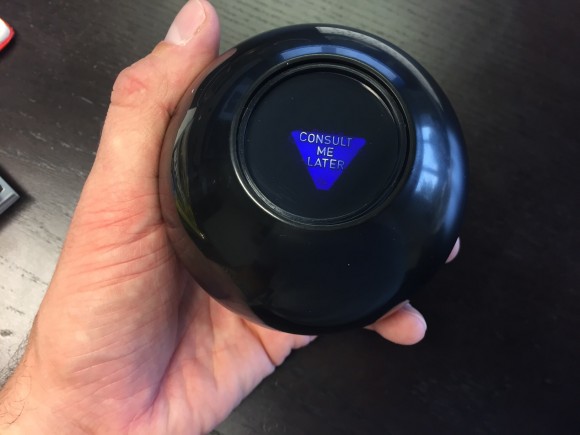 And we're hoping our 'lucky' keyring will get us there unscathed. This was sent in by our friends in Luton wishing us well for our charity trip. I am, of course, lying. We had to buy it. With actual money…
And we've got an incredibly well crafted key ring. There was no mention of it lasting a lifetime though… Strange. pic.twitter.com/4UN9xsXpK8

— James Baggott (@CarDealerEd) October 9, 2014
You can follow our exploits every day of the rally on this website, while updates from our teams will be posted on the Bangers4Ben Twitter feed. Also follow @CarDealerMag and @CarDealerEd for the latest on the trip.
Car Dealer will be reporting live from the #B4b14 Bangers4BEN trip everyday so check back over the weekend for updates on the adventure. A full feature will appear in Issue 81 of Car Dealer Magazine out in mid-November.