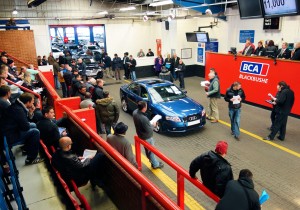 BCA is partnering with LeasePlan for a special Ready to Retail sale, which is taking place at BCA Nottingham on 14 June.
The event features 100 selected cars that are ready to be put straight onto dealer's forecourts. The cars are graded between 1 and 3, are all less than four years old and have no more than 80,000 warranted miles.
Each and every vehicle is supplied with a V5 document, service history and a BCA Assured report. Every vehicle will be presented in the best condition following a SMART Retail Clean.

The sale consists of a large and diverse entry including Audi, BMW, Mercedes-Benz, Mini, Toyota, Lexus Alfa Romeo, Citroen, Ford, Honda, Jaguar, Kia, Nissan, Peugeot, Vauxhall, Volkswagen and Volvo. All vehicles will be available with a selection of diesel and petrol engines and the sale is catalogued on BCA Auction View where each car will be available to Live Online buyers.
BCA and LeasePlan are also offering buyers half-price UK mainland delivery on all purchases made at the sale.
BCA Operations Director, Simon Henstock said: 'We are delighted to partner LeasePlan for this sale event, which offers a unique opportunity to buy from a specially selected catalogue of cars in ready-to-retail condition.
'With new car retail demand recovering thanks to some spectacular initiatives from the manufacturers, dealers also need a good choice of stock to tempt used buyers who are looking for both quality and value.'

Henstock added: 'As the market remains vey short of good quality used cars, this superb selection of vehicles is sure to attract a lot of interest from buyers.'