Essex-based used car dealer Big Cars Ltd has gone into administration and 52 employees have lost their jobs, it was confirmed today.
On Monday, January 29, the business confirmed that it ceased trading. Today employees were informed that they have been made redundant as the company was no longer in a position to pay them.
Speaking with Car Dealer Magazine today, administrators Grant Thornton confirmed this was true.

A spokesperson for the firm has now released a statement: 'I can confirm that Trevor O'Sullivan and Daniel Smith, both of Grant Thornton UK LLP, were appointed joint administrators of Big Cars Ltd. ('the Company') on 2 February 2018.
'The Company, which operated used vehicle dealerships in Witham, Chelmsford and Suffolk, ceased trading earlier this month following commercial difficulties and the company's 52 employees have now been made redundant.
'All vehicles have been removed by the finance companies that provided funding to the business, which was secured on these vehicles. The administrators are currently in discussions with interested parties about the sale of some assets and are identifying remaining value in the Company for creditors.'
When Big Cars Ltd ceased trading owner Adam Stott issued a statement to Car Dealer Magazine.

It reads: 'Due to unsustainable trading conditions, Big Cars Ltd took the difficult and unavoidable decision to cease trading on 29th January. Our immediate priority is to secure the best possible outcome for customers and creditors.
'Over the past nine years, Big Cars had achieved rapid growth and built up one of the UK's largest corporate profiles on social media but major changes within the motor retail market in respect of finance and stock provision during 2017 impacted significantly on the business.
'Our advisors, Grant Thornton, have received a number of offers to acquire assets of the company and we remain confident that an agreement will be reached in the near future.
'We would like to take this opportunity to apologise to customers, employees, suppliers and other affected parties for the uncertainty during this time, which we deeply regret. We are working tirelessly on reaching a solution.'
The used car dealer based in Witham, Chelmsford and Suffolk was set up by owner Adam Stott (pictured). Just 25 at the time, Stott decided to set up on his own after working as a car dealer for a franchised dealership.
As of January 27, the Big Cars Ltd website was also closed. It has now been reinstated but explains that the business has now closed.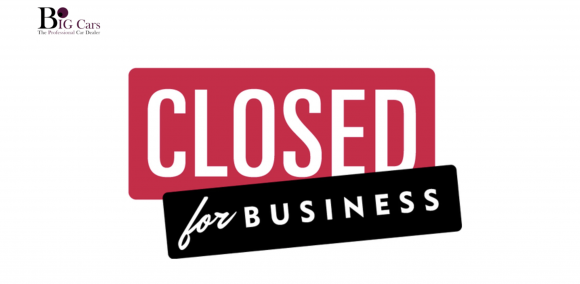 Its Facebook page has now been removed although its Twitter account remains active.
When rumours began that the business was in trouble last week, customers trying to get answers about their cars and finance found that the dealerships they visited were closed and no one was answering the phones.
A customer told Car Dealer that she had been to visit one of their sites, but it was locked up. She said one member of staff came out and said there would be someone at the dealership on Monday.
On Sunday, January 28, the dealership added a post to their Facebook page.
It read: 'We have been closed this weekend which has caused some inconvenience to our clients as well as some uncertainty.
'From tomorrow morning any clients that need help or require assistance with their enquiries can you please contact on 01376 503584 or inbox us as usual. We apologise for the disruption and any inconvenience caused during this time.'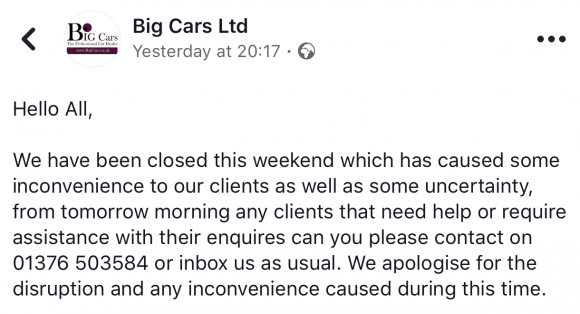 This post has now been removed with the Facebook page, however it is still active on Twitter.
Other local dealers have reported that retail prepared stock from the dealerships have been seen going through auctions in the area since before Christmas.
Stott runs a YouTube business channel where he publishes videos with his help and advice for businesses. He has interviewed celebrities including 50 Cent and Al Pacino. He posted a video only last week about 'Wastage in your business', however it has now been removed.
Car Dealer is continuing to investigate and will update this story as new information surfaces.
MORE: Big Cars achieves 'inspirational' hat-trick
MORE: Cox Automotive says 2017 was a 'hugely positive year'
MORE: Leeds Kia dealership set to move to a new home
On Workshop Magazine: Our Kev: This 'hit targets at all costs' approach is totally unethical