YOU never forget your first car. Mine was a Jaguar Mk 2, resplendent in British Racing Green.
The paintwork was a bit tired, but I loved that car and drove it everywhere – around the kitchen floor, up the stair banister, through my sandpit. It was probably the catalyst that got me started on the 'car thing' in the first place…
No doubt you remember yours, too. Mine was by Dinky – it lacked the finesse of the more advanced Corgi models, which came with suspension and windows, but it was my first of many Jaguars (and by far the most reliable of them all), and somewhere in the loft I still have it.

The reason I mention this is because I was talking to a bloke the other day who came onto my lot to look at a Volvo V70 estate, that rare breed of used car that well and truly sells itself (and yes, he bought it).
Meeting people from all walks of life is one of the more interesting parts of this job, and being a jovial sort of fellow I like to make small talk where I can with the nicer (and sadly, in my experience, rarer type of) human beings, of which this chap was one.
His job, believe it or not, was as a toy car designer. His entire life involved going round to car shows, dealerships and enthusiasts' houses with a large drawing board, some draughtsman's pencils, a top q uality camera and a tape measure (hence the need for the Volvo) to take measurements and photographs, which he'd then scale down into something which could be cast and assembled as a toy, or more often than not these days, a collectable item – after all, the appeal of a toy car to today's generation of Facebook and twitter-savvy kids is somewhat geeky, or so my eleven year old nephew told me when I bought him a Hot Wheels box set for his last birthday, the ungrateful little scrote.
But Volvo man does what he does for the same reason that I do what I do – he loves cars, and it's a great way of getting close to the ones you'd never own yourself, but would love to get to know better, even if it does involve braving the garages of a few beardy weirdies to achieve his aim.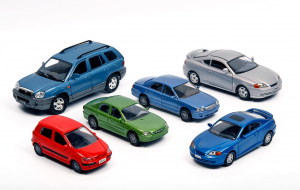 What I didn't realise is this – it's big business. There are huge sums of money involved, and the car manufacturers that have a decent heritage often make more money out of licenced merchandise then they do out of the cars themselves. After all, a toy car costs pennies to produce, and doesn't have to meet the same stringent safety, design and emissions regulations as a real one.
According to my punter, General Motors has made more money over the years out of toy Chevrolet Corvettes than it has out of real ones, but that'll come as no surprise when you learn that GM takes a licence fee (a few pennies or cents) for each scaled-down Corvette sold across the world.
And there are millions sold worldwide every year. Then, of course, there are all the Camaros, Impalas and El Caminos to take into account…
If toys were a part of the real world sales figures, the Corvette would probably be the best-selling car in the world, and in many ways it's a shame that they aren't, as a 'Vette is a whole lot sexier than a Toyota Corolla (which, incidentally, appears to be missing from the display shelves in my local Toys R Us).
Imagine what else would be in that best-sellers list if you allow fantasy to transcend reality for a few moments?
The humble Mini, as in the proper one, complete with rusty sills and excessive oil consumption, would doubtless be in there (a fair few of them in Mr Bean green with padlocks on the doors, or liveried in full Union Jack splendour), there'd be a Ferrari Testarossa with chrome alloys on every street corner and car dealers across the land would be competing against each other in the small ads to shift gold Aston Martin DB5s with built-in ejector seats, most of which would have a worn out ejector spring and a brown plastic dude in the passenger seat. Life would be fun.
And to round it off, I'd be able to smoke around in a battered green Jaguar Mk 2 with half of its paint missing, which – in true Withnail and I style – would make me very cool indeed.