TIME is ticking away to the start of Bangers4BEN this year, and with only a handful of spaces left on our fabulous charity rally, people really need to get in quick to join the fun.
Anyone who's been on Bangers4BEN before will tell you what a crazy, wacky event it is – and something definitely not to be missed!
We've got a full-on Ferrari theme this time round, and the aim of the game is to have a fun drive through France and Italy while raising money for BEN, which provides care, support and advice to those in the automotive industry who need help in times of hardship or distress. Once back home, the bangers will be auctioned off at BCA Blackbushe to raise even more much-needed moolah for BEN.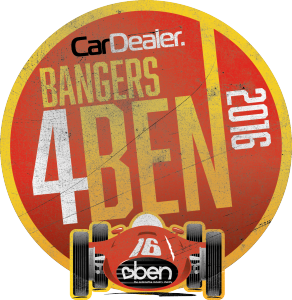 Last year's Bangers4BEN raised nearly £56,000, and it's so easy to get involved. All you have to do is buy a car for up to £750, pay the £500 entry fee here, decorate your car and choose your fancy dress! Adding to the fun factor, prizes will be awarded for the best fancy dressed car, the best themed car, the best tweet and the overall winner – that's the one making the most profit at auction.
The teams of two will be covering many miles of Europe's best roads, ending up at Ferrari's home town of Maranello in Italy, enjoying a personal tour of the Ferrari test track and staying at The Maranello Village – the only Ferrari-themed hotel in the world. Truly a fabulous Ferrari-fest!
We'll also be visiting the newly renovated Ferrari Museum, where as well as marvelling at the many exhibits people can also try their hands – and feet – on the pulse-quickening, semi-professional Formula 1 simulators.
It is of course possible that – being bangers – not all the vehicles will make it there and back, but have no fear, as AA support vans will be on hand to ensure that no banger and nobody is left stranded.

The Bangers4BEN 2016 itinerary:
Day 1: Saturday 8th October – Dover to Colmar, France (431 miles)
Day 2: Sunday 9th October – Colmar to Maranello, Italy (373 miles)
Day 3: Monday 10th October – Maranello to Strasbourg, France (352 miles)
Day 4: Tuesday 11th October – Strasbourg to Dover (461 miles)
With just two months to get everything sorted and so few spaces left, make sure that you sign up for Bangers4BEN 2016 soon. The entry fee includes all ferry crossings, twin accommodation, breakfast, evening meal, AA roadside assistance and museum entry.
A Bangers4BEN JustGiving page has also been set up to create a bit of friendly rivalry between the teams so that entrants can see how everyone else is faring in the fundraising stakes – and it's got off to an amazing start with Team Unipart already having raised more than £15,000! Click here to be taken to the page.
MORE: The heat is on: Lawgistics' Bangers4BEN hopes go up in flames…
MORE: Bangers4BEN 2015: The bangers are ready to roll
MORE: Bangers4BEN 2015: Top tweets so far
On SuperUnleaded.com: Chap Has A Really Bad Day, Punches Through Windscreen Of Mercedes