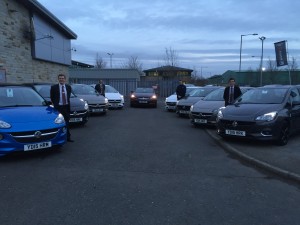 SO how was March 1st for you? Dealerships up and down the country enjoyed a frenzied spell of activity as customers arrived to pick up their new 15-plate cars yesterday.
One dealership to get in touch with us was Vauxhall outlet Bristol Street Motors of Crosshills near Keighley, West Yorkshire. Branch manager Chris Catterall sent us a picture of the team with a range of spanking new cars.
This morning, Chris told us: 'Everything went really well. We started delivering customers' cars at 8am on Sunday morning. We managed to deliver 11 before 10.30 when we opened.

'We had to prepare the dealership with valeters and a standby technician just in case anything was a little bit untoward and we needed access to the service department but everything went really well.
'The guys were in from 7.30, getting cars ready for customers. I think the customers really appreciated the fact that they were driving around in in a 15-plate car an hour later!
'We're a little bit quieter now. We've got six or seven going out today. We've got 40 cars on for the month so far so we're going to try and get as many of them delivered as soon as possible.'
Meanwhile, the teams at Steven Eagell Toyota, Letchworth and Northampton, enjoyed a busy spell of activity, as demonstrated by the tweets below…

The Griffins and Sharon Lister both upgraded into a Chilli Red Yaris at @SETLetchworth today. #newreg #15Plate pic.twitter.com/oeANUbIGQF

— Steven Eagell Toyota (@StevenEagell) March 1, 2015
Thanks to @UnderwoodsTandC for choosing @SENorthampton for their newest vehicles. Looking good #15plate #newreg pic.twitter.com/ZfTWXZJFvD

— Steven Eagell Toyota (@StevenEagell) March 1, 2015
And Hendy Kia at Eastleigh in Hampshire were all set for a busy day at the start of business…
It's #15Plate day at #Hendy #Kia #Eastleigh. Lots of excited families picking up their brand new cars today! pic.twitter.com/VkBVf8yieI

— Hendy Group (@hendygroup) March 1, 2015
Meanwhile, it was all go at JCT600's Peugeot dealership in Bradford…
The guys at @PeugeotUK Bradford have delivered their first cars! #15plate #15PlateDay pic.twitter.com/yJvy7kKWZt

— JCT600 (@jct600) March 1, 2015