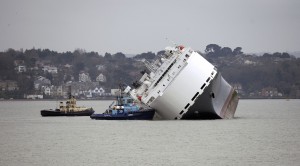 THE stricken car transporter ship that ran aground off the Isle of Wight at the weekend might not be moved for several weeks, it emerged today.
The 52,000-tonne Hoegh Osaka was steered onto a sandbank on Saturday night after it started listing severely.
Oceanographer Simon Boxall from the University of Southampton said a painstaking inspection would now need to be undertaken to see whether the ship had been damaged and whether the cargo of 1,400 cars had moved inside.

Mr Boxall said the key thing was 'to take things gently'. And he added: 'There were reports of trying to refloat it yesterday but they weren't planning to. They want to know if the structure is still together. They don't want to just drag it off because it might split in two, causing the major disaster they have so far avoided.'
Meanwhile, it has emerged that human error could have played a part in in the deliberate grounding of the 52,000-tonne ship.
The pilot and master of the Hoegh Osaka took the decision to steer the ship onto a sandbank to prevent it capsizing.
Nick Ridehalgh, from Associated British Ports told the Daily Mail: 'There could be an element of human error. We won't know until the investigation is complete. There was potential if the action hadn't happened for the vessel to capsize.'

Another spokesman for ABP told the newspaper: 'It is well established that these things can arise from human error. Not just the steering, it could be mechanical, human error or a combination of the two. But no one knows until the investigation is complete.'
The 25 crew members were rescued from the ship by the RNLI and coastguard. Hoegh Autoliners said one crew member was taken to Queen Alexandra Hospital in Portsmouth with non life-threatening injuries.
The ship was this afternoon listing at 52 degrees and it's thought that the salvage operation could take weeks.
Captain John Noble, a marine salvage expert from Southampton, told the Mail: 'I have never seen anything quite like this. They (salvage operations) are all quite different, but this one is more different from usual. It could well be there for a month.'
MORE: Mike Brewer Motors provides help for the homeless
MORE: Motorpoint delighted with early reaction to Widnes branch