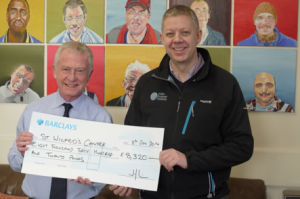 SHEFFIELD dealership and service centre Mike Brewer Motors helped spread some seasonal cheer by donating more than £8,000 to a centre that offers help and support for vulnerable, homeless people.
St Wilfrid's Centre has been supporting the socially excluded of Sheffield for the last 24 years, and the team there were delighted with the donation.
TV presenter Mike Brewer was in America filming the next season of Wheeler Dealers at the time the cheque was handed over, so colleague John Tustin was on hand to deliver the money to the centre, a neighbour of the dealership.

Mr Tustin said: 'This is the first time we have been able to make such a sizeable donation, and we were keen to donate to a charity that works locally.
'When we visited, we were amazed at the amount of help they provide to those who need it, and all without any government funding.
'The fact that they are continuing to look for ways to do more is inspirational. We're very proud to help – especially at this time of year – a charity that not only provides such great services, but does so right across the street from our site!'
Kevin Bradley, Director at St Wilfrid's Centre, added: 'It is fantastic to be chosen to receive such a valuable donation, and we are very grateful to Mike Brewer Motors. This money will enable us to improve the services that we offer to vulnerable people in Sheffield.'

MORE: Motorpoint delighted with early reaction to Widnes branch
MORE: New Mitsubishi dealership opens in London
MORE: Dealers 'not worried by new FCA regulations'